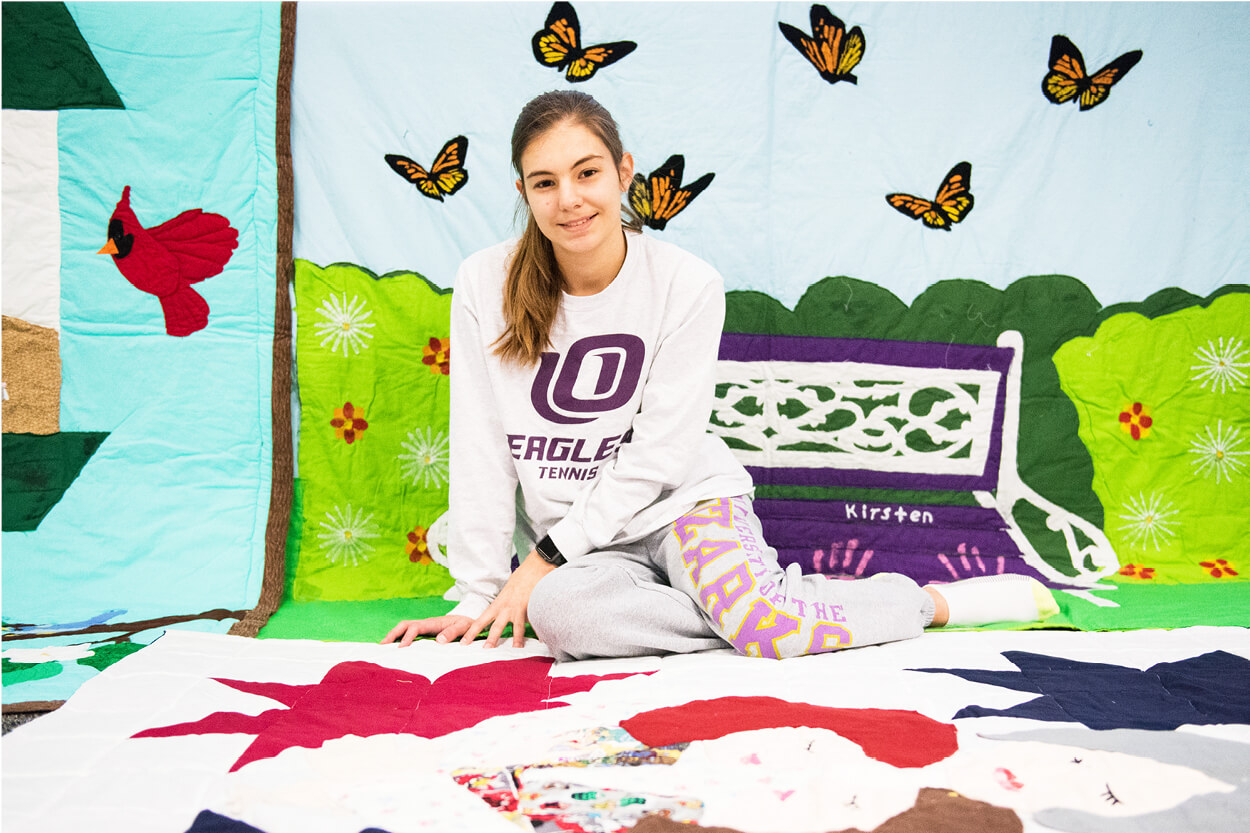 University of the Ozarks senior art major Kirsten Endicott of Rogers, Ark., will present her Senior Exhibit, "Patchwork Through Time," from Nov. 24 through Dec. 4 in the Stephens Gallery.
There will be a reception to meet the artist from 6-7 p.m. on Monday, Dec. 2. Endicott will also present an artist talk from 2-3 p.m. on Sunday, Dec. 8, in Baldor Auditorium.
Endicott said "Patchwork Through Time," is a tribute to her late grandmother, who first introduced her to the world of quilting and art.
"The warm memories that I have of my grandmother before she passed away from cancer are ones that I will keep in my heart for the rest of my life, such as re-painting a garden bench, going around neighborhoods looking at other people's houses decorated with Christmas lights, and helping her do little things like re-filling the bird feeder outside her dining room window," Endicott said. "I even remember the time when my sister and I made a few quilts with our grandmother from old denim jeans and cotton fabric. Since gardening and quilting were my grandmother's favorite hobbies, I wanted to put those two things together in one huge scene, as seen in 'Bench in Grandmother's Garden.' I wanted to challenge myself with a different quilter's skill in each of these cotton fabric pieces."
Endicott said she uses numerous quilting skills and tools in manufacturing her quilts.
"For the smaller quilts, I use a needle and thread to hand-sew them together, but for the larger quilts I would apply fabric with my sewing machine," she said. "I was inspired to give hand-sewing a try and challenge myself to this new way of making these masterpieces. I also incorporate found objects such as dolls' clothes, buttons and different styles of beads onto the quilt in order to give dimension, instead of being flat like other traditional quilts."
Many of Endicott's quilts utilize the skill of appliqué, a method of sewing a piece of fabric to another larger piece of fabric.
"Appliqué gives me the option of using organic shapes rather than using geometric shapes throughout the entire quilt," she said. "Another technique I used to make some of my quilts is to take some old photos I found and print them onto a special fabric paper. In 'A Birdwatchers' View,' I used applique on the birds, feeders, and the tree leaves. After cutting out all the necessary pieces, I then used basting spray in order for the fabric to stay in place while I ran it through the sewing machine. If the applied fabric moved even a little, then it would be very difficult to fix without accidentally tearing the fabric."
Endicott said some of her larger quilts took several weeks to make.
"The ones that I make by just using a needle and thread sometimes takes me only around five days, so not as long as making one huge quilt," she said. "The one important thing that I keep in mind, while sewing, is to ask myself, 'why am I making this quilt? What purpose does it serve or who will it benefit?' Mostly, I have been making quilts based on memories of important events and the people I love."
Following graduation, Endicott plans to return to Northwest Arkansas and pursue a career in teaching art.
Topics: About, Academics, Art, Community Events, Student Events