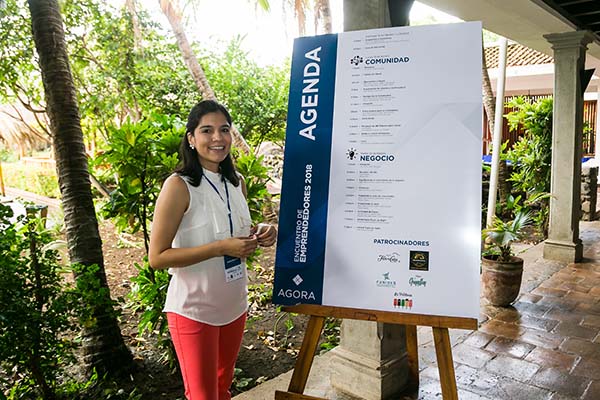 Denise Duarte is on a mission to help as many entrepreneurs in her home country of Nicaragua as she possibly can.
After graduating from University of the Ozarks in 2008 with a perfect 4.0 GPA and with a triple major in accounting, marketing, and management, Duarte returned to Nicaragua to work as a financial auditor for a major company, while earning an MBA. But Duarte knew she wanted to use her skills and knowledge to uplift women in her country, so she began looking for a position that would allow her to do just that.
Partnering passion and purpose
That's when she found the non-profit agency Agora Partnerships in Nicaragua, an organization whose mission is to strengthen entrepreneurs' business models and prepare them to access the impact investment market through custom business services, world-class consultants, and global network access. She started as a consultant and quickly worked her way up to development manager and then to country director for all of Nicaragua.
The former U of O Walton Scholar works primarily to empower women entrepreneurs to succeed and thrive.
"I feel like I've found where I'm supposed to be," said Duarte. "We provide resources ranging from human capital and financing to networking for entrepreneurs who are committed to solving the most pressing social and environmental problems in Latin America. This position became the perfect way to put into practice what I had learned in business school while making an impact in my country."
Her role with Agora includes leading a team of consultants in helping prospective business owners secure the financing to follow their dreams. She finds its particularly fulfilling to work with women entrepreneurs on such things as soft skills.
"We work with women in areas like communications and negotiation, which are traditionally not taught in countries such as Nicaragua," she said. "These are types of skills that can empower women and make a difference on whether their business succeeds or fails."
Duarte, who is married and has a 2-year-old son, is excited about making a difference in her country.
"I remember hearing numerous times that one of the purposes of becoming a Walton Scholar was understanding the importance of free enterprise and being able to apply what I learn in my country," she said. "I actually earn a living doing just that. I work helping entrepreneurs, not only in Nicaragua but across Latin America, get investments and resources to grow their business and expand their impact. And, I don't support just any type of business; I work with those that have at its core the mission of creating better and more inclusive communities."
Rebuilding process
Duarte said the recent political turmoil in Nicaragua makes work like hers even more important.
"Especially now, I feel even more committed to supporting entrepreneurs since it will be them that will allow us to be reborn," she said. "It is a challenging time and we are definitely having to reinvent ourselves, but we have done it in the past and I am convinced that we will do it in the future and that I will be able to contribute to that rebuilding process."
Ozarks impact
Being a Walton Scholar at U of O made her a more "well-rounded and sensitive" person, Duarte said.
"I was definitely challenged to exceed academically, but more so to be a better person not only to those that I had to engage with on a daily basis but also to those who I hadn't met and sooner or later would be impacted by my actions," she said. "I still remember one of my professor's words in one of his classes. He emphasized that we were not citizens of X or Y country, but that we are all citizens of the world. My experience at Ozarks shaped me at the personal and professional level and above all instilled in me values that I have been able to apply in all aspects of my life, including those of perseverance, hard work, teamwork, honesty, and fairness."
Topics: Accounting, Alumni, Business Administration, International