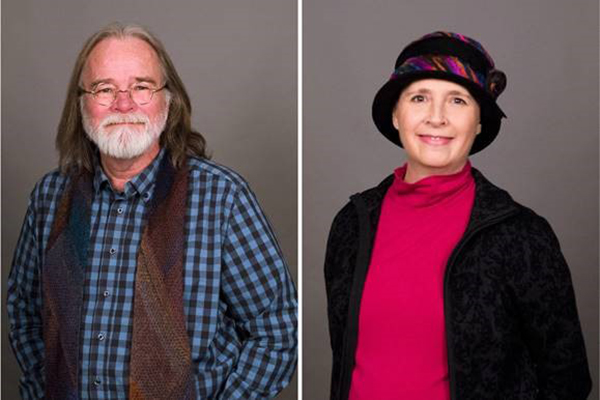 University of the Ozarks faculty members Dr. William "Bill" Eakin and NaLisa Brown have been selected as recipients of the 2020 Bagwell Outstanding Faculty Awards, it was announced Monday.
The awards were announced Monday morning during the weekly campus-wide President's Standup meeting via Zoom. The Bagwell Awards are named in memory of long-time University trustee Richard Bagwell and his wife, Katherene, and are given to two outstanding faculty members each year who are nominated by students, faculty and staff.
Eakin, a professor of philosophy and German, has announced he is retiring at the end of this semester after teaching at the University since 1991. Brown is an instructor of business who first began teaching at Ozarks in 2008.
Eakin has been a full-time faculty member since 2000 and a full professor since 2009. He was also a Bagwell Award recipient in 2003.
In his nomination for the Bagwell Award, a colleague called Eakin "an exemplary teacher and colleague, contributing in major ways to the welfare and development of our college community."
"His reputation as a teacher is legendary," the nomination read. "He is known as a superb, engaging lecturer with rigorous standards. His students, past and present, speak highly of his classes. Bill has been a hard-working and supportive colleague. He has been a strong and wise voice in the Senate while always remaining calm and rational in difficult discussions. He is open, thoughtful, and welcoming to everyone around him, students, faculty, and staff. He is a wonderful human being, a model to our students of how to live life fully and a deeply appreciated member of our community."
In addition, the University's Board of Trustees named Eakin a professor emeritus of philosophy at its Saturday board meeting.
Brown joined Ozarks in 2008 as an adjunct faculty member and was an instructor from 2010 to 2014. She rejoined the University as an instructor in 2017.
In her nomination, a colleague credited Brown for helping the University transition to an all on-line curriculum delivery format following the outbreak of Covid-19.
"I would like to nominate NaLisa Brown for her giving her time, her expertise, her experience and her support to the members of the faculty during this time of transition with the Covid-19 virus," the nomination said. "As we transitioned to the new learning management system last semester, NaLisa was unselfish in her support to all of us … Her service to us was of course a service to all of the students we serve. She is a true example of a selfless and giving colleague. I can think of no one more deserving of this award than NaLisa Brown."
Topics: About, Traditions