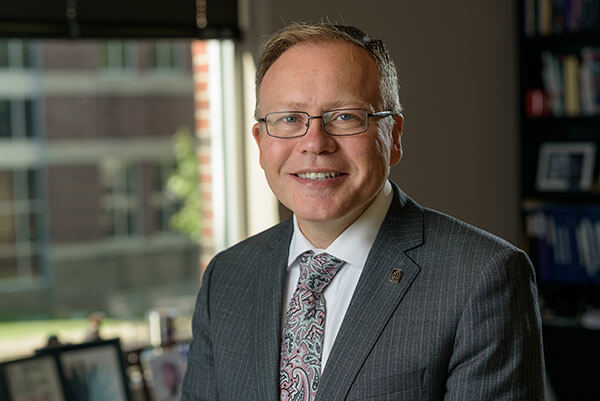 President Richard L. Dunsworth, J.D., has been elected to the Higher Learning Commission (HLC) Board of Trustees.
The HLC is the nation's largest regional accrediting agency, representing nearly 1,000 colleges and universities in 19 states in the north central region of the U.S.
Commission trustees are elected by the leaders of its member institutions of the organization. Dunsworth's four-year term on the board begins on Sept. 1, 2018.
"The system of regional accreditation ensures that institutions meet their responsibilities to the public, and I am honored to serve as a trustee for the Higher Learning Commission," Dunsworth said. "The HLC serves institutions as diverse as research universities to tribal colleges, two- year institutions to four-year liberal arts colleges. Education is a public good, and I am proud to play a part in its stewardship." 
Dunsworth became the 25th president of U of O in 2013. Under his leadership, Ozarks has experienced a 29 percent increase in enrollment over the past five years and has raised nearly $39 million for scholarships and facilities in its current 
Climb Higher
campaign, which concludes in 2020.
Before joining Ozarks, Dunsworth was an administrator for 22 years at Millikin University in Decatur, Illinois, where he served as interim president and vice president for enrollment. He joined HLC as a peer reviewer in 2007. He also serves on the NCAA Division III Financial Aid Committee.
Dunsworth earned a bachelor's degree in political science from Colorado State University in Fort Collins. He went on to earn a master's degree in education from Eastern Illinois University in Charleston and a J.D. from the University of Illinois at Urbana-Champaign. He also earned certification from the Institute for Educational Management at the Harvard Graduate School of Education.
HLC is an independent corporation that was founded in 1895 as one of six regional institutional accreditors in the United States. HLC accredits degree-granting post-secondary educational institutions in 19 states: Arizona, Arkansas, Colorado, Illinois, Indiana, Iowa, Kansas, Michigan, Minnesota, Missouri, Nebraska, New Mexico, North Dakota, Ohio, Oklahoma, South Dakota, West Virginia, Wisconsin and Wyoming.
The Commission is governed by a Board of Trustees elected by the membership and administered by a president selected by and accountable to that Board. In addition to application for initial candidacy or initial accreditation, the commission deliberates on and decides the official action on all recommendations for institutions placed on notice or probation from such status, withdrawal of affiliation, and request for change of institutional control, structure or organization.