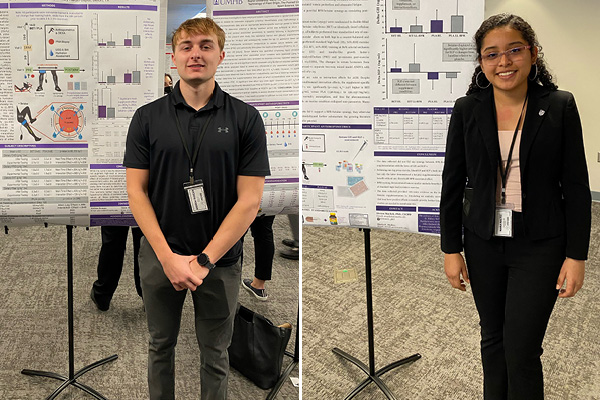 University of the Ozarks students Andrew Duncan and Maria F. "Mafer" Maltez each gained invaluable experience recently by presenting research data at a sports medicine academic conference.
Duncan, a sophomore health science major from Alma, Ark.,  and Maltez, a sophomore biology major from Nicaragua, presented data with their professor, Dr. Steven Machek, assistant professor of health science, at the Central States Chapter of the American College of Sports Medicine (ACSM), hosted at University of Arkansas at Fayetteville, March 3-4, 2022.
The students presented research associated with Machek's dissertation work while he was at Baylor University. Machek's research assessed a potential synergistic effect of betaine supplementation and blood flow restriction training on several outcomes. Duncan presented on their impact with regards to intramuscular targets associated with mechanical loading and subsequent growth. Maltez looked at the modalities' possible combined effect on exercise-associated serum hormones.
"Both students did wonderful jobs presenting my research data and answered methodological questions as well as someone who was actually involved in data collection," Machek said. "They handled themselves with extremely professional posture when faced with difficult questions from a wide variety of academics."
The U of O students' abstracts were both selected as two out of three finalists for the Outstanding Student Research Award in the undergraduate category.
"This was fantastic because there were around 10 to 12 undergraduate abstracts they were contending against," Machek said. "As finalists, both Andrew and Mafer were asked to give a 10-minute PowerPoint presentation in front of the entire conference and subsequently field research questions for five minutes."
Maltez was selected for the conference's Outstanding Student Research Award for undergraduates, which comes with a $750 prize to be used for her registration and travel fees to the National ACSM conference later this year in San Diego, Calif.
"I felt completely shocked," Maltez said. "Winning the outstanding presenter award is a big honor that I acknowledge to Dr. Steven Machek, who gave me all the support and tools that made this possible for me.  After all the hard work, the idea of going to San Diego is amazing and just shows that when you put enough effort and love into what you are doing, all that is going to pay off. I certainly feel blessed with this opportunity."
Machek said that while the U of O students did not assist in the data collection that was conducted while he was a graduate student at Baylor, they were "integral in helping me develop some of my interpretations of the data as I wrote my subsequent discussion points."
"I was very impressed with their ability to comprehend the relatively complex methodologies and I don't doubt that all of those who watched their presentations truly believed they were part of data collection based on how confidently they explained the study, as well as how adeptly they fielded questions," he said. "Both Andrew and Mafer created original slidesets and posters from their abstracts, which is very time-consuming and requires an understanding of what was academically expected for them to explain."
Duncan, who is planning  career in sports pharmacology, said his favorite part of the conference was "meeting experts in the field and networking."
"I was able to learn a lot from their presentations and personal conversations with them," he said. "The conference allowed me to network with potential graduate schools and also increased my knowledge in the health science and athletic performance fields."
Maltez, who expects to pursue a career in biochemistry or molecular biology research, said she also enjoyed the interactions with others who have similar academic interests.
"I enjoyed the conference as a whole, however my favorite parts were those that allowed us to interact with more people," she said. "A good example was during breakfast, because it was those moments when I got to create the most connections with other people. The conference allowed me to get different perspectives on several things, like how broad research can be and how, even when you find nothing, you have already found something. I made connections with people from different universities, and I got inspired by their hard work."
Topics: About, Academics, Biology, Health Science, Student Stories