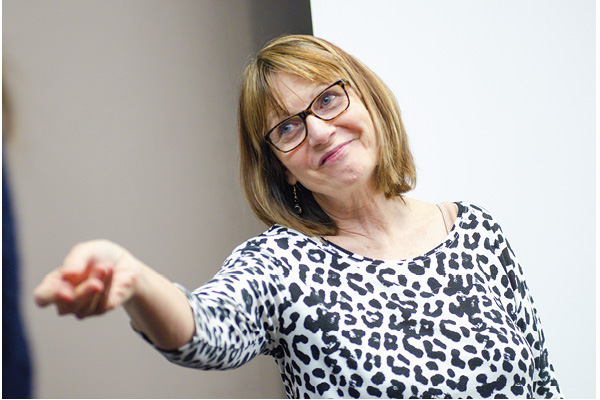 A sign on Dr. Rhonda Shook's office door at University of the Ozarks says, "You are the author of your own life story, so make it a good one."
Shook, associate professor of communication, will retire from teaching at the end of the Spring 2022 Semester, ending her academic career where she first became a college student in the late 1980s.
Shook, who earned a bachelor's degree in English from Ozarks in 1992, called it an honor when she had the opportunity to return to U of O to teach in 2013.
"The most important part of my job is helping students create the best version of their own life story," she said. "It has been an honor to be part of a faculty that was so transformative for me, and I have endeavored to create transformative experiences for my own students, both in and out of the classroom. Connecting Ozarks students to cultures they might not ordinarily encounter – the Karen community, our homeless friends, street artists, elementary school ESL students, senior citizens, documentary filmmakers, and Hollywood producers – and watching their hearts and minds expand is my greatest reward."
Including a four-year stint as an adjunct professor from 2000-2003, Shook will have taught at Ozarks for 14 years. She said that among her teaching highlights were helping her students with their senior projects in her Research and Ethics classes as well as helping other communication majors in their capstone projects.
"In March of 2017, I served as faculty advisor for Ozarks' first TEDX event, produced by Chloe Welsh, Daniel Valencia, and Ivan Bustillo for their capstone project," Shook said. "Eliza Borne, editor of the Oxford American magazine, kicked off the event, followed by Kevin De Liban, Equal Justice Legal Aid Attorney at Legal Aid of Arkansas, Wambugu Gachungi, Pastor at First Presbyterian Church of Tulsa, Lucas Delezene, anthropologist, and more. The event was well-attended and positively reviewed.  In 2018, Bere Osorio brilliantly blended her RTV and sociology majors in her senior project, Dona Nobis Pacem, A Choir Adventure. This wonderful documentary was well-received by the audience that attended her premiere.  In 2019, Maru Marcia created a stunning short documentary of the ongoing violence in Nicaragua. Compiling, sometimes gruesome, footage collected from contacts, friends, and loved ones on the ground in her home country, Maru told the story as only she could. And, Ana Sofia Camargo was passionate about gender and economic equality. She used that passion to create an online guide to make museums and galleries in her home, Panama City, more safe and accessible to pedestrians and those who travel by public transit (lower income groups). Once that project was in progress, she interviewed professionals in the Panama City arts community and to ask questions about inclusion. One such interview led to a museum director who offered to run Ana Sofia's program as an app on her webpage. These are just a few examples of the stellar work that our students have produced and that I was fortunate enough to witness.
Shook said there will plenty of things she will miss about Ozarks.
"I will miss my communication department colleagues and our planning sessions and I will miss the students' 'Aha!' moments," Shook said. "I will miss looking up to see [Assistant Professor of Chemistry] Befrika [Murdianti] peering through my window in her creepy safety goggles."
Shook, who describes herself as a storyteller, is also an accomplished playwright. She said several recollections come to mind when asked about her favorite moments at Ozarks:
"The zany antics of Bere Osorio and Sheryl Cambronero as they created Ozarks' first Spanish Soap Opera in which I had a minor acting role and a major make-sure-they-eat-and-sleep role."
"Working with Susan Edens' students on the film adaptation of my one-act, Stamoas. Some of the bloopers were hilarious."
"The amazed expressions of the media students who attended workshops with Werner Herzog, panels with Tess Harper and Kathleen Turner, sessions with Peter Coyote, etc. as they served on the media team of the Hot Springs Documentary Film Festival."
"Meeting, introducing, and interviewing icons for the Walton Arts and Ideas Series and hearing my students reactions to the experiences."
"Hosting cookouts, art therapy sessions, and holiday dinners with students who became family."
"Seeing my Karen students from Burma, Aye-Aye and Paw Moo Lar, beaming in their caps and gowns at graduation. All odds were against these women, but they persevered and succeeded."
"Each time I applauded new students as they followed the bagpiper out of Matriculation. I'm pretty sure I cried every time."
"When we learned at the last minute that we could not have streaming rights for the play I was going to direct, I wrote an original one, Murder's Disposal, and designed it as a series of Zoom meetings. Lucas Hoiland rose to the many challenges to master the technology, and built the deadly scythe that made my concept work. Senior theatre major Tiffany Quinton showcased her versatility in dual roles. The opportunity allowed me to do what I do best and I wouldn't trade that experience for anything."
After graduating from Ozarks, Shook went on to earn a master's degree in English from Arkansas Tech University and a Ph.D. in speech communication from Southern Illinois University. She also taught at Arkansas Tech and Louisiana State University-Alexandria before joining the Ozarks faculty in 2013.
In 2017, she was granted tenure and promoted to associate professor of communications. She has written numerous plays and essays and has served in several leadership roles with the Hot Springs Documentary Film Festival.
Shook said retirement will keep her busy. She currently has two plays, a novel, and several articles in progress.
"So mostly, I plan to write, but I also plan to grow things, to make some art, and to wrestle my psycho puppies," she said. "My hands are going to be perpetually dirty, I think."
Topics: About, Communication Studies