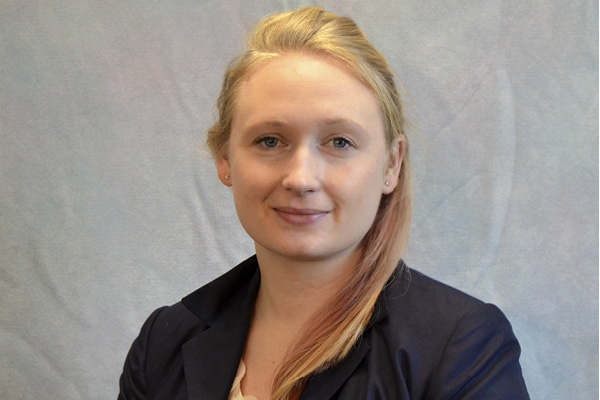 Dr. Christie L. Sampson, whose academic work has focused on the conservation of endangered species and who most recently taught at University of Calgary and Clemson University, has joined the University of the Ozarks faculty as an assistant professor of biology, beginning the Fall 2022 Semester.
Sampson is an Eyes High Postdoctoral Scholar at Calgary and also serves as a research supervisor at the Canadian university. In addition, she serves as a research associate for the Smithsonian Conservation Biology Institute, Geographic Information Systems (GIS) Lab, in Virginia. Previously, she was a graduate teaching assistant, adjunct and creative inquiry instructor at Clemson, where she earned her Ph.D. in biological sciences in 2018.
"I'm looking forward to joining the faculty this fall," Sampson said. "I had been hoping to find a university where the focus is on getting to know students and helping them to grow and succeed in their time as an undergraduate. I also love the interdisciplinary approach to education taken at University of the Ozarks. Solving the challenges facing our society will require people that can draw on experiences and knowledge across multiple disciplines, just the type of learning fostered in the academic, research and service opportunities at Ozarks."
As an Eyes High Postdoctoral Scholar, Sampson has conducted research in support of aquatic ecosystem conservation, contributed to educational programs for K-12 students and developed public science outreach events and activities.
Sampson said she has more than 15 years of conducting interdisciplinary ecological research and that her academic work has focused primarily on the conservation of endangered species, everything from fish to elephants.
"I have also trained as a wildland firefighter, supervised restoration and invasive species removal projects, worked as a botanist and timber marker, and am a biosystems engineer," she said. "My past projects combined aspects of human dimensions of wildlife studies with GIS, science communication, and educational outreach to develop more effective conservation policy and mitigation strategies."
Sampson said her objectives as a professor are to "inspire curiosity and encourage exploration of the natural sciences and prepare students for life after college by providing a solid foundation of scientific theory and instilling the tools they need to develop their own lines of inquiry."
"I have been able to create my own classes focused on working with students to pursue their ideas on how to mitigate human-elephant conflict, explore freshwater conservation challenges, and address water quality issues through outreach and education," she said. "The university courses I have developed are outcome-oriented, inquiry-driven, and work to address relevant problems facing the scientific community … I'm excited to provide hands-on learning experiences and opportunities to engage in research projects that will help prepare students for their future careers. I love being able to help students connect what they learn in the classroom with their goals and values. I always strive to customize the courses I teach to provide students with the skills they want to gain."
Sampson said collaboration has played a big role in her research, starting with her Ph.D. work on human-elephant coexistence and the perception of poaching in Myanmar.
"Through partnerships with San Diego Zoo Global, Colorado State University, World Wildlife Fund, the Myanmar government, and community members, we were able to uncover the previously underestimated threat of poaching to elephants in central Myanmar and documenting the loss of more than 70 elephants in approximately two years, just within our study areas," Sampson said. "This discovery has spurred action up to the highest levels of the administration, who we then began working with to develop anti-poaching strategies for the region. At Calgary, I am working on a project utilizing tools such as eDNA and GIS to support bull trout conservation in Alberta and the Yukon with collaborators from the University of Alberta, Alberta Environment and Parks, Fisheries and Oceans Canada, the Yukon Government, and over a dozen First Nations in western Canada."
Sampson earned bachelor's degrees in zoology and biosystems engineering from Michigan State University and a master's degree in biological sciences from Clemson.
Topics: About, Biology, Environmental Studies