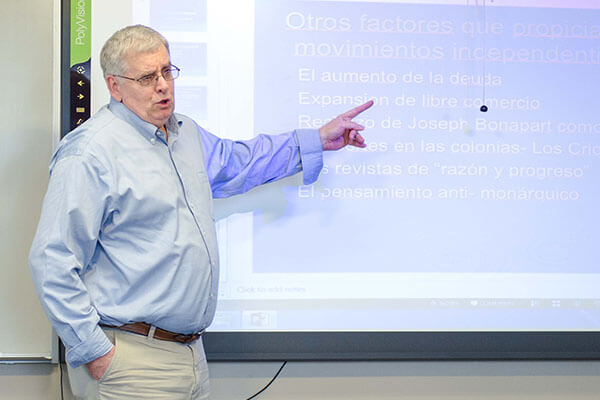 University of the Ozarks Professor of Spanish Dr. William Clary has published a review of renowned Salvadoran novelist Horacio Castellanos Moya's latest book for Latin American Literature Today (LALT).
The review of the 2018 novel, "Moronga," appears on the LALT website, www.latinamericanliteraturetoday.org, as well as in the February edition of its magazine.
Clary said he first became aware of the writer's work in the early 1980s when he purchased Moya's first collection of short stories in Tegucigalpa, Honduras.
"As his production as a novelist began to proliferate after 2000, I began to follow him, always finding his work fascinating," Clary said. "Last year, when he published 'Moronga,' I decided to take it on as a project. The book review for LALT is just a part of the project. I have presented a paper on the novel at a conference and am currently finishing a much longer critical article on the novel for publication."
Clary, who has taught at Ozarks since 2006, was instrumental in bringing Moya to the University in 2014 to speak as part of the Walton Arts & Ideas Series.
"I believe Horacio Castellanos Moya is one of the most creative narrative voices in Central America today," Clary said. "His work tends to focus on the latent and persistent traumas from the period of the 1980s, which still haunts many Central Americans today, either as residents of their home countries or members of the large Central American diaspora in the U.S. today."
"Moya's is a powerful and piercing voice of memory that references the horrors of war that consumed the isthmus and how they remain in the minds of so many who were first-hand witnesses to this tragic decade in Central American history. Yet his work also deals with the demoralization and disenchantment that have also subjected Central America to the equally devastating problems of gangs and the drug trade, major problems of the postwar period which persist, alongside widespread poverty, in the conflicted region."
A former editor of news agencies, magazines and newspapers in Mexico, Guatemala and El Salvador, Moya has published 12 novels, five short story collections and two essay collections. In 2014 he received Chile's Manuel Rojas Ibero-American Narrative Award. Currently he teaches creative writing and media in the Department of Spanish and Portuguese at the University of Iowa.
Topics: About, Academics, Creative Writing / Thought, Media Production, Spanish