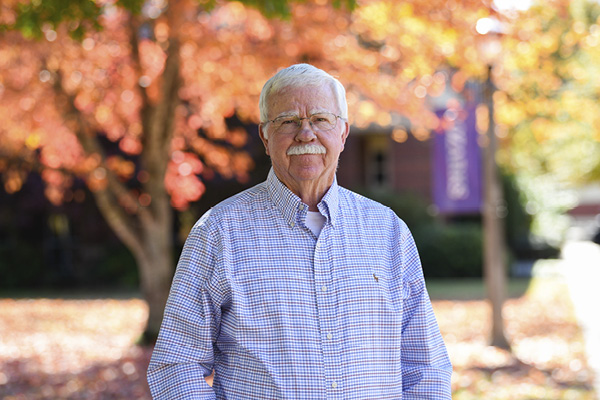 Even though he didn't realize it at the time, Dr. Buddy Smith's love for mathematics was being engrained in him even as young child walking to school.
"I always tell the students in college algebra that I learned Pythagoras' Theorem at an early age," Smith said. "I walked to school about three-quarters of a mile, where you'd go down a dirt road a ways and then take a 90-degree right turn down the next dirt road. Well, I learned pretty quickly that if I cut across the field, which would be the hypotenuse, it was a lot shorter distance.  I didn't know it at the time, but I was learning and benefitting from math."
Smith, a professor of mathematics at University of the Ozarks, will retire from full-time teaching at Ozarks at the end of the Fall 2021 Semester. He will conclude a 41-year teaching career at Ozarks that began in 1980.
"I've been truly blessed and fortunate to have spent the majority of my career here," Smith said. "I've loved teaching at a small college, where I could really get to know my students. I realize that's not always the case in teaching, so I've never taken that for granted."
Born and raised in the small south Arkansas community of Hardin, just outside Pine Bluff, Smith went on to earn a degree in mathematics from Arkansas College (now Lyon College) before earning a master's degree from West Texas State University (West Texas A&M) and Ed.D.,  from North Texas State University. After teaching for several years in Texas, he jumped at the opportunity to return to Arkansas in 1980.
"As an old country boy who just wanted to have a garden, Texas just didn't fit me and I was happy to get back to Arkansas," Smith said. "I loved the fact that Ozarks was a small college and that it was in a beautiful area. This seemed like a perfect place for me and 40 years later I still feel the same way."
Smith's legacy at Ozarks is one of generosity, patience and genuineness.
"Buddy has been and still is one of the most genuine people I have ever met," said Chelsea Glasscock, a 2013 graduate. "He cares about his students beyond just the classroom and that shows. He's the type of professor that you tell your friends and family about years later while reminiscing on the good ole days on how you learned math in a room full of chalkboards."
Smith also left his mark on his students through the mixture of humor and diligence in the classroom.
"As most of his students will tell you, the things that made Dr. Smith an incredible teacher are his willingness to help when you need it, his patience for when you still didn't understand it, and his awesome sense of humor," said Matt Little, a 2005 graduate and high school mathematics teacher in Lamar, Ark. "He would regularly tell jokes, followed by 'If I want my wife to know that, I will tell her myself.' I also loved how he would teach using examples of animals. We take those animals, some number, over there and divide them by these animals over here. He always kept the classroom interesting."
Smith said he's not sure where his knack of using humor in the classroom came from but he quickly learned that doing so helped him and his students navigate the sometimes arduous task of learning mathematics.
"I tell my students on the first day of class that I'm going to tell a lot of stories and jokes and if they offend you, I'll go ahead and apologize now," Smith said. "I try to instill a little humor and fun into the class because I learned pretty early that if you're real serious and just work problems and don't have an interaction with students, they're not going to do well.  Now, I also tell them that while we want to have fun, at the end of the semester it's all about whether you pass or fail and you're not going to pass unless you put the work into it."
Nothing affirms that last statement more than the fact that one of Smith's own daughters even failed his college algebra class twice.
"She went on to take the class at another college and made an 'A,'" Smith said. "I think it was more about her attitude than my teaching style. She finally decided to get serious about it."
Smith's patient teaching style and willingness to go above and beyond has been appreciated by students. Before major exams he would often schedule pre-exam workshops and mock tests in the evenings for his students.
"I've learned that you have to be ready to change gears, slow down, adapt and try new things in order to reach students," he said. "Sometimes that might mean extra work outside the classroom.  As a teacher, you have to be willing to do that little extra to help get them over the hump. Math can be difficult for some students and I try to do everything I can to help them succeed and not give up."
Sometimes he even adds some advice to go with the encouragement, like the time a student who had made a poor grade on her test asked Smith why she had done so poorly.
"I asked her if she had a tutor and she told me his name, and I said, well I don't know him, is he a math major," Smith recalled. "She said, no, he's my boyfriend. I told her she better either get a new boyfriend or a math tutor because the deal she had now wasn't working out for her."
Students often find it difficult to dislike the affable Smith.
"I've got a student in class who told me a couple of weeks ago, he said, 'You know Mr. Smith, when I came here I didn't like you and I sure didn't like this class,'" Smith said. "He went on to say, 'But for some reason, and I don' know what you did to me, I've changed my mind about you and I've changed my mind about this class.' Now, this student comes to his 8:30 a.m. class and also comes to the 9:30 a.m. class. He started doing that and his grade has gone from an 'F' to a 'B.' He loves this class now."
Christie (Shuffield) Shoulders '02, who now teaches mathematics at Ozarks after teaching in high school for several years, said Smith helped chart her career path.
"During the beginning of my senior year Dr. Smith asked me which schools I planned on applying to for graduate school," Shoulders said. "My response was 'I'm not planning on going to grad school.'  His immediate reply was, yes, you are going to grad school.  After Dr. Smith's off and on persistence not only did I apply and get accepted to graduate school, I was granted a graduate assistantship.  If it had not been for Dr. Smith's confidence in me and his insistence on the importance of me continuing my education, I would not have the job that I have and love today."
In addition to mathematics, Smith has also taught classes at Ozarks that have focused on some of his favorite hobbies, including bees and beehives and crappie fishing.
"To be able to hare my hobbies with students and to pass along some skills that they might be able to enjoy for the rest of their lives is very gratifying," Smith said. "Teaching can be hard work and there is a lot of time that you put into it outside the classroom, so it's nice when you're able to do a class like that is really enjoyable for both myself and the students."
Smith served as chair of the University's science and mathematics division from 1991 to 1997. He also served as the University's faculty representative for athletics for more than 20 years in the 1980s and '90s. He even served a stint as the acting commissioner of the old Arkansas Intercollegiate Conference when the then commissioner died suddenly.
"I really enjoyed my role as faculty athletic rep because I that helped me get to know the University presidents much better since we travelled to conventions and meetings together," Smith said. "It allowed me to get to know the coaches and student-athletes also. It was pretty time-consuming but it was really enjoyable and made some great relationships through it."
Smith is known on campus and in the Clarksville community for his extreme generosity, often giving away baskets full of fruits and vegetables from his large garden and honey from his beehives.  For years he also dressed up and played Santa Claus at the University's annual Christmas party as well as other community Christmas events and parades.
"I just enjoy sharing the produce from my garden and honey with my friends, colleagues and people in the community," Smith said. "As far as Santa Claus, my church needed someone to play Santa one year and I was short enough to fit in the suit. I was really anxious and unsure about how I would relate with children, but it went really well. I guess I was hooked after that."
Smith met his wife, Jeannie, at church soon after he moved to Clarksville and the couple was married for 37 years before she passed away in May of 2021.  They have four daughters — Montye, Kaylan, Leslee and Sabrina — as well as four grandchildren and two great grandchildren.
Smith, who plans to continue teaching a class or two at Ozarks each semester for the next year, said that when he reflects on his teaching career, it's his former students that stands out the most.
"I've taught students where I've also had their parents and their grandparents in my class and to me that's pretty remarkable," he said. "There's nothing better than getting an email or text from a former student about how much you impacted their life and how much they appreciate you. The real joy has just been getting to know the students and to know that you had a role in their success in life. That's a true blessing."
Topics: About, Academics, Mathematics