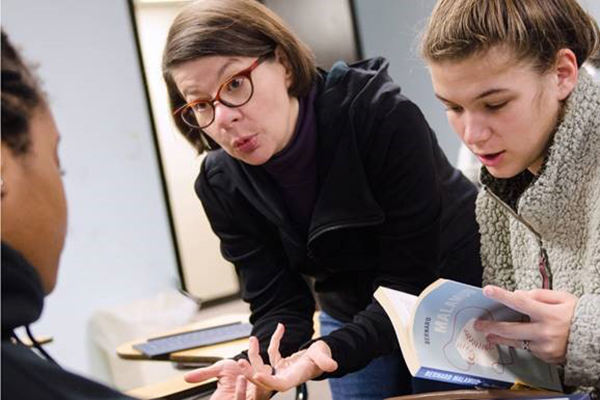 University of the Ozarks Associate Professor of English Dr. Amy Oatis has been granted tenure by the University's Board of Trustees, effective immediately.
During its April 25 meeting, the board approved the unanimous recommendation of the University's Professional Affairs Committee that Oatis receive tenure.
Oatis joined Ozarks in 2000 as an instructor and served as an assistant professor from 2008 to 2017. She was promoted to associate professor in 2017.
In her recommendation letter, University Provost Dr. Alyson Gill said Oatis has "distinguished herself in all the stated criteria: excellence in teaching, excellence in institutional service, and achievements in scholarly and professional development."
Dr. David Daily, dean of the Division of Humanities & Fine Arts, said Oatis' calling as a teacher "is not merely to teach content, but to teach people — living human beings, in all their complexity, so that they in turn can use her classes to discern their own gifts and callings."
Dr. Sharon Gorman, professor of music and chair of the Professional Affairs Committee, said Oatis' service to the University has been exemplary.
"Dr. Oatis has mentored younger faculty, served faithfully on committees and as an instructor in Ozarks Experience program and reworked the intensive-writing part of the English program in order to align it more closely with LENS objectives," Gorman said. "Letters from colleagues stress her willingness to help everyone. Indeed, if there is any weakness in her service, it is an apparent inability to say no to any request for assistance, whether from student, colleague or administration."
Oatis earned her Ph.D. in English from the University of Arkansas. She recently had an academic paper on Nathaniel Hawthorne accepted for presentation at the American Literature Association. She also serves on the executive committee of the Henry Wadsworth Longfellow Society.