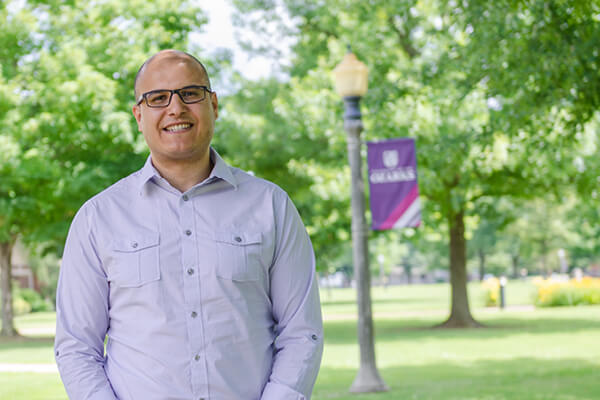 Dr. Yassine Dguidegue has joined the University of the Ozarks faculty as assistant professor of sociology, beginning the Fall 2019 Semester.
Dguidegue completed his Ph.D. in rural sociology in May from the University of Missouri at Columbia. He has served as a graduate teaching and research assistant at Mizzou since 2014 and is also the director of the university's Deaton Scholars Program, a process-based peer mentorship program.
A native of Morocco, Dguidegue's academic interests include, society science and technology, African food security, rural community development, experiential learning education, policy analysis and intercultural communication. His dissertation was titled, "Agricultural Genetic Engineering and Sustainable Development in the African Food Security Context."
Before pursuing his Ph.D., Dguidegue worked as a teacher and program leader in experiential education programs in Vietnam and California. He also spent a year (2012-13) teaching at Heifer International in Perryville, Arkansas.
"I love the mission of University of the Ozarks and its focus on students," Dguidegue said. "My background is in teaching, but in recent years I've focused on research during my time at the University of Missouri. However, my passion has always been teaching and that's why Ozarks appealed to me so much. I'm excited about getting back to teaching."
He also said Ozarks' LENS curriculum was a major draw.
"The emphasis on teaching as well as the interdisciplinary approach to education through the LENS program was what first caught my attention about this University," he said. "I'm a huge advocate for a well-rounded, interdisciplinary education. A lot of colleges talk about an interdisciplinary curriculum but very few actually practice it like Ozarks does."
Dguidegue earned his bachelor's degree in language and pedagogy from The Faculty of Education in Rabat, Morocco, and a master's degree in cross-cultural studies from the University of Mohammed the Fifth in Morocco.
Dguidegue has been actively involved in the Rural Sociological Society, the Borlaug Dialogues Program and Universities Fighting World Hunger program. He speaks four languages — Moroccan Arabic, English, classical Arabic and French — and is an avid soccer player and fan. He also enjoys cooking traditional meals with his family, organizing volunteering programs with community members and organizing outdoors and sports activities with colleagues and students.
Topics: Sociology