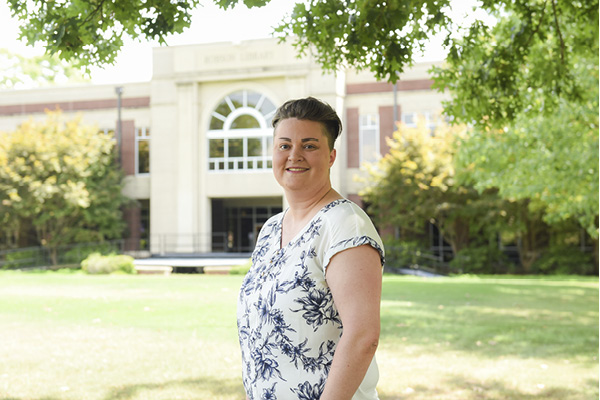 Krista Denné has returned to University of the Ozarks as the instruction and outreach librarian for Robson Library. Her first day at Ozarks was July 20.
Denné most recently worked as the programming librarian at the Johnson County Public Library. She also serves as the pastor for First Presbyterian Church of Clarksville, which meets on campus in Munger-Wilson Chapel.
Denné previously worked at Ozarks as an adjunct instructor, assistant softball coach and in the Office of Public Safety.
"I am thrilled to return to Ozarks as the instruction and outreach librarian," she said. "I look forward to sharing the abundant resources Robson Library has to offer with our students, faculty, and staff."
Denné will report to the associate vice president for academic affairs and will work with Robson Library's circulation, reserves, and interlibrary loan services as well as catalog materials and maintain the library's website. She will also help introduce and reinforce – in the library and in the classroom – the library's print and digital resources while assisting individuals with their specific research interests.
A first-generation college student, Denne is currently working on a doctor of ministry degree with a focus on Ecclesiastical responses to crisis and trauma at University of Dubuque Theological Seminary in Iowa, where she obtained her master of divinity degree. She is also enrolled in the fall at Emporia State University to begin work toward a master of library science degree with a focus in leadership and administration.
She earned her bachelor's degree in theological studies from Hanover College in Indiana.
Denné is certified in mental health first aid with the National Council for Mental Wellbeing and is a volunteer with the Ozark Rape Crisis Center.. She and her husband, Doug, who is the director of Robson Library, reside in Clarksville.
Topics: About, Academic Support