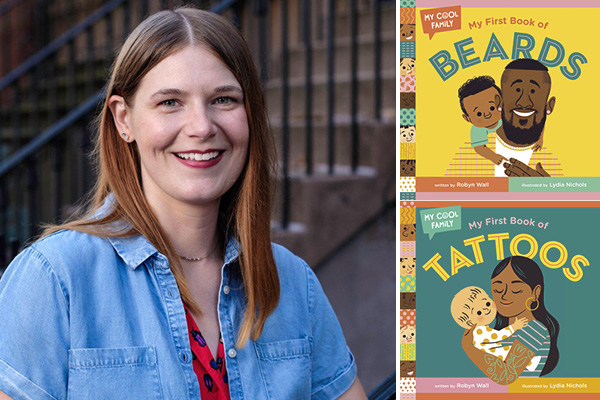 This month marks the publishing debut of University of the Ozarks alumna Robyn (Crow) Wall '10.
Wall, who graduated with a degree in English in 2010 with Summa Cum Laude honors, has published a pair of children's book that will be released on May 24 by Doubleday (Random House Kids): My First Book of Beards and My First Book of Tattoos.
Originally from Tennessee, Wall lives on the Upper West Side of New York City with her husband, Nathan, and two young daughters. After graduating from Ozarks, Wall taught high school and worked in communications for several years before deciding to focus on writing fiction professionally. A few years ago, she had a reading at the New York City Poetry Festival.
She called her debut books "quirky, rhyming board books that feature bearded and tattooed parents but are truly about connectedness. Cuddles are encouraged."
Wall said she has always enjoyed writing fiction but that she didn't get the courage to try it professionally until she moved to New York City and was surrounded by writers.
"I started writing for kids after having two daughters," she said. "In those pre-school years, we went to the library weekly, and I was surrounded by great sample texts."
Wall said she decided to write in rhyme despite the fact that many editors warn aspiring children's writers to stay away from the style because so many do it poorly.
"All my verse submissions have been strongly considered or published, and that started with developing my craft at Ozarks," she said.
She credits her time at Ozarks and her participation in the annual competition Project Poet for helping her in her writing.
"When I work on manuscripts, I still feel like I'm trying to finish my weekly poetry challenge on the couch of Robson Library that overlooks campus," Wall said. "I've just had more practice and publishing industry experience since then. Also, I'm pretty sure I've gotten better at time management. Who knows? I will always be thankful to Dr. [David] Strain for founding Project Poet. I loved the underground energy of the Black Box Theater, the acoustic performances, and the way it drew people from every study division. It gave my writer's heart an outlet, taught me creativity on a deadline, and introduced me to new forms of poetry. "
Wall said she will always be grateful for her time at Ozarks.
"Professors were approachable, and I learned to ask questions," she said. "That helps in any career. Also, the English department introduced me to so much good literature. Southern Lit and Lyrical Poetry were my favorite courses."
She has many fond memories of her time at the University.
"Dr. Bill Eakin and his wife, Kody, were extremely hospitable and hosted a philosophy course over good meals at their home," she said. "I also remember the time some friends and I had an epic office chair relay in an undisclosed building after hours. Security has tightened up since then."
More information on Wall's books an be found at https://mycool.family/