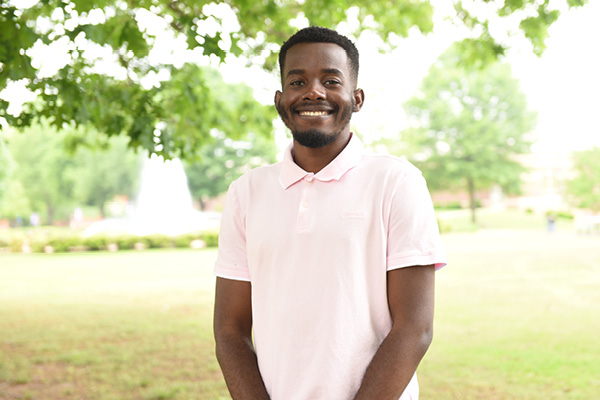 University of the Ozarks senior Colby Dorcély's summer internship experience in Washington, D.C. was so successful that the company offered him a position once he graduated in May of 2022.
The business administration and political science major from Pétion-Ville, Haiti, interned with Infineon Technologies Americas Corp. through The Fund For American Studies (TFAS) program. Headquartered in Munich, Germany, with locations in more than 15 countries around the world, Infineon designs and manufactures semiconductors.
Dorcély worked with the company's government relations team in its D.C. office from May through July.
"I worked in public policy and dealt with internal information that needs to stay confidential," he said. "On the side, I tracked relevant tech/chips legislation, met with members of congress, attended meetings with people from different departments of the company and was responsible for briefing company executives during their Washington visits."
Following the completion of his internship, the company was so impressed with Dorcély that he was offered a position once he graduated.
"I was very excited to receive a post-graduation opportunity," he said.
With help from a couple of his professors, Dorcély applied last December for the internship through TFAS.
"TFAS took care of finding potential internship placements and sending out resumes based on my fields of interest; my only worries were the interviews," he said. "Infineon was the second company I interviewed for, and I got the offer the following day."
Along with the internship, Dorcély took a class at George Mason University in Virginia and also had time for training and sight-seeing.
"Being a part of the cross-country and track teams at Ozarks, I had to put in the most summer training possible," he said. "But other than that, I got to visit a lot of museums, the Library of Congress, the U.S. Botanic Garden and a lot of places in Maryland and Virginia as well. I stayed in Foggy-Bottom, an area in downtown Washington, which facilitated exploring because everything was close. I went on random strolls through Georgetown, Shaw, the National Mall and ate at many different places."
The internship reaffirmed Dorcély's desire to pursue a career in public policy and finance.
"Those who know me know how indecisive I had been regarding my career path," he said. "I have two majors and two minors, with so many options to look at without having enough time to analyze them. I had multiple conversations with different people trying to get help because I used to feel like I hit a dead-end not knowing what I wanted to do next. My time in D.C. totally put me back on track. I definitely know what I do not want to do, and thanks to the countless networking events I went to, I have a clear idea of what I want to get into after graduation."
Following graduation from Ozarks, he plans to obtain a master's in public policy or administration with a concentration in finance.
Topics: About, Business Administration, Political Science