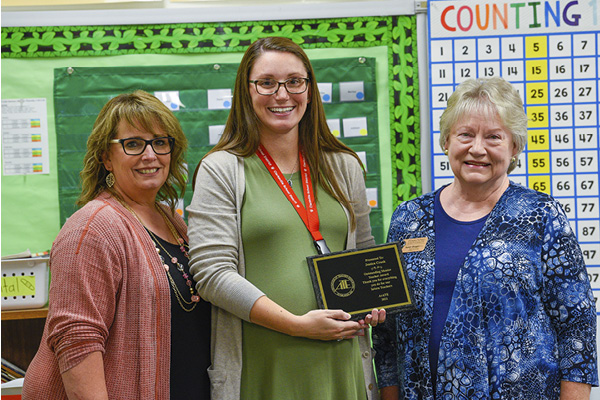 Clarksville (Ark.) first grade teacher Jessica (Prater) Crook, a 2014 graduate of University of the Ozarks, has been named the recipient of the 2021 Outstanding Mentor Teacher Award by the Arkansas Association of Teacher Educators (ArATE).
The award was presented to Crook on Thursday, Oct. 14, in her classroom at Clarksville Primary School. Presenting the award to Crook (pictured, center) were Dr. Susan Grogan (right), executive director of the ArATE, and Pam Smith, assistant professor of practice of education and director of early career professional educators at Ozarks.
According to the ArATE, the state-wide mentor award recognizes "expertise and excellence in the mentor's abilities to guide and support a teacher candidate during the candidate's placement or internship experience in an Arkansas P-12 classroom." Crook tied for the award this year.
Grogan said Crook epitomizes what the mentor award is all about.
"Teacher education is all about training and it's always an honor to be able recognize those teachers who do outstanding work with interns," Grogan said. "I am thrilled to be able to be here to present this award to a very deserving teacher."
Originally from El Dorado, Ark., Crook is in her eighth year of teaching first grade at Clarksville Primary, where she did her internship as an Ozarks student. She has had two interns and numerous student observers during her time as a teacher.
"I feel very appreciated and honored to receive this award," Crook said. "The internship experience at Clarksville was so valuable to me when I was a student here and I want to help other young educators get that same type of experience."
Crook's intern this semester is U of O senior education major Rachael Masterson, who is scheduled to graduate in December.
"My goal is to help the students see what it's going to be like as a full-time teacher and to prepare them for that first job," Crook said. "The great thing about the Ozarks teacher education program is that the interns do a full year in the classroom, which means they are with the class from the very first day to the final day. That kind of experience is invaluable and helps make the transition so much easier."
Dr. Allison Freed, director of teacher education and assistant professor of education/science education at Ozarks, is the current president of ArATE.