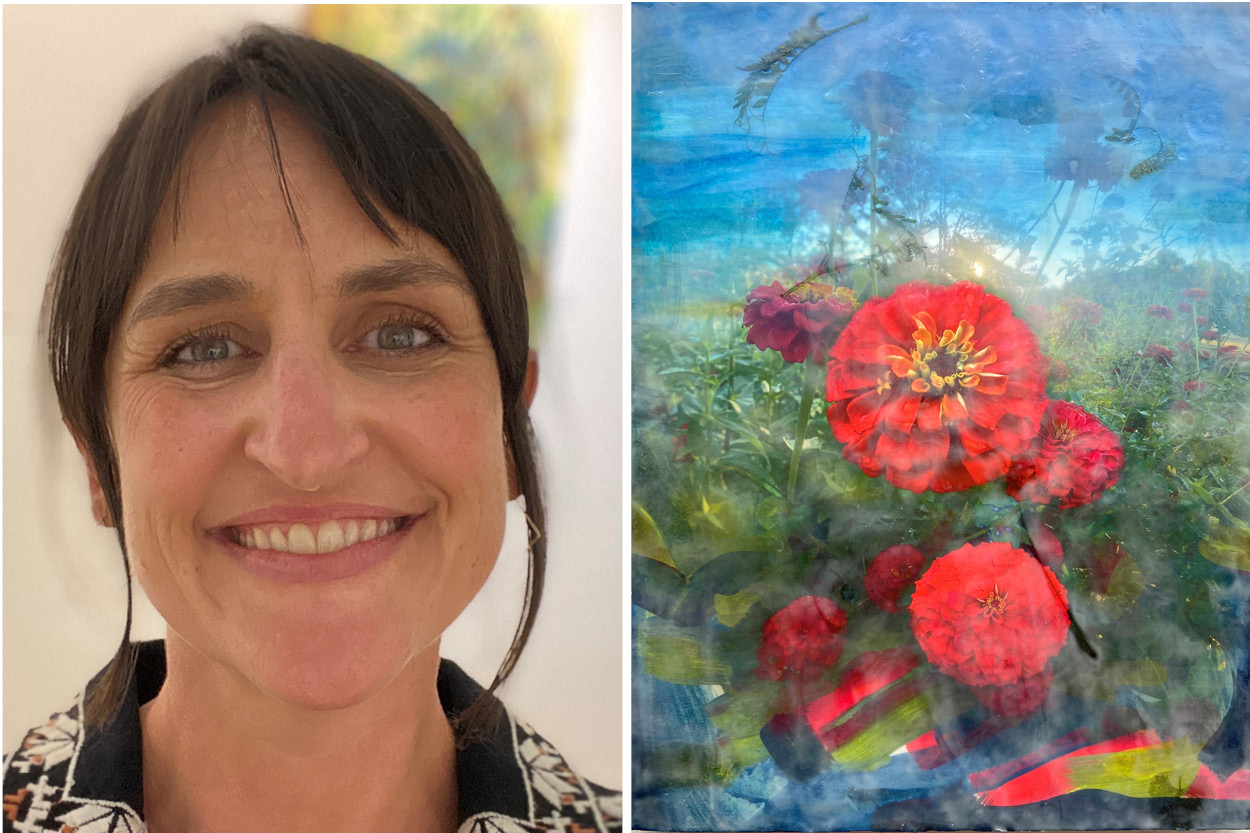 Arkansas River Valley multimedia artist Melissa Cowper-Smith will present her exhibit, "Fire Remedy," at University of the Ozarks from Jan. 17 through Feb. 17 as part of the University's Artist of the Month Series.
The exhibit will be displayed in the Stephens Art Gallery, located in the Walton Fine Arts Center. There will be a reception to meet the artist from 5-6 p.m. on Wednesday, Feb. 8, in the gallery. The gallery is open to the public from 9 a.m. to 4 p.m. throughout the week when classes are in session. There is no cost to access the gallery.
Cowper-Smith, of Morrilton, Ark., is a multimedia artist who uses projected video animation, digital printing, hand papermaking, collage, encaustic and painting. Her works depict natural and agricultural landscapes, objects, tools, furniture, and domestic interiors.
Cowper-Smith said she has a vivid memory of a painting she made as a child.
"My mom set up an easel in the garden, gave me a canvas, and some paint and I started by trying to paint the flowers I could see," she said. "Petunias, iris, sweet peas, and lilies. But my skills at representation were child-like. Symbols of flowers when what I wanted to paint was the light, color, texture, and incredible detail of the flowers. So, in my frustration I took the flowers and used the paint to glue them to the canvas. I began adding many materials from the garden. Soil, leaves, sticks. The final painting was a mess of paint and garden. Decades later I see this little girl in my art and garden practices. These same impulses. To be emersed in these materials and the flow of nature. I continue to make art outdoors. Making paper from my plants, adding beeswax and paint. Looking with intense fascination at the details of nature. Trying to capture the light and textures in photography. This love of nature is something many of us share. "
The "Fire Remedy" exhibit includes her artworks from several different series.
"The works depict interiors, gardens, wild places, fires, clouds, trees, flowers, and sunlight," she said. "These pieces invite you in, or push you back, or ask you to enter with care. They represent a dynamic, beautiful, and dangerous world which includes both disasters and everyday moments."
Cowper-Smith said she has intentionally developed a unique art process.
"Often viewers wonder 'what am I looking at?' or 'how was this made?'" she said. "Instead of neatly fitting within one of the categories of art — painting, photography, printmaking, or craft — I bring the disciplines together in a conversation; where each medium has its own part to play. The painting is brushy, dripping, and colorful. The photography is bright, specific, and instantaneous. The paper is textural, natural, and physical. The printmaking is digital and hidden within the process. Each of these coming together to form a balance in the composition. "
Originally from Alberta, Canada, Cowper-Smith studied art at the University of Victoria, before moving to the United States in 2002 to complete a master's of art degree at Hunter College in New York City. While in New York she met her husband, James Dow, a philosopher of mind who has an interest in art and aesthetics. The two moved to Arkansas along with their son in 2011.  Using permaculture design theories, she developed Wildland Gardens near Morrilton. She grows hundreds of varieties of medicinal, food, fiber, and flower plants. She uses her gardens as both inspiration and material for her work.
She has gained mastery in papermaking, often using fiber plants from the garden. Her unique and original work is a combination of handmade paper, photography, painting, pigment printing, and encaustic. She has received many awards for her art, including inclusion in the juried Delta Exhibition (Arkansas Arts Center), an Individual Artists Fellowship (Arkansas Arts Council), and an Artists Scholarship (Arkansas Committee of the National Museum for Women in the Arts).  Learn more about Melissa Cowper-Smith and Wildland Gardens on her website www.cowpersmith.com