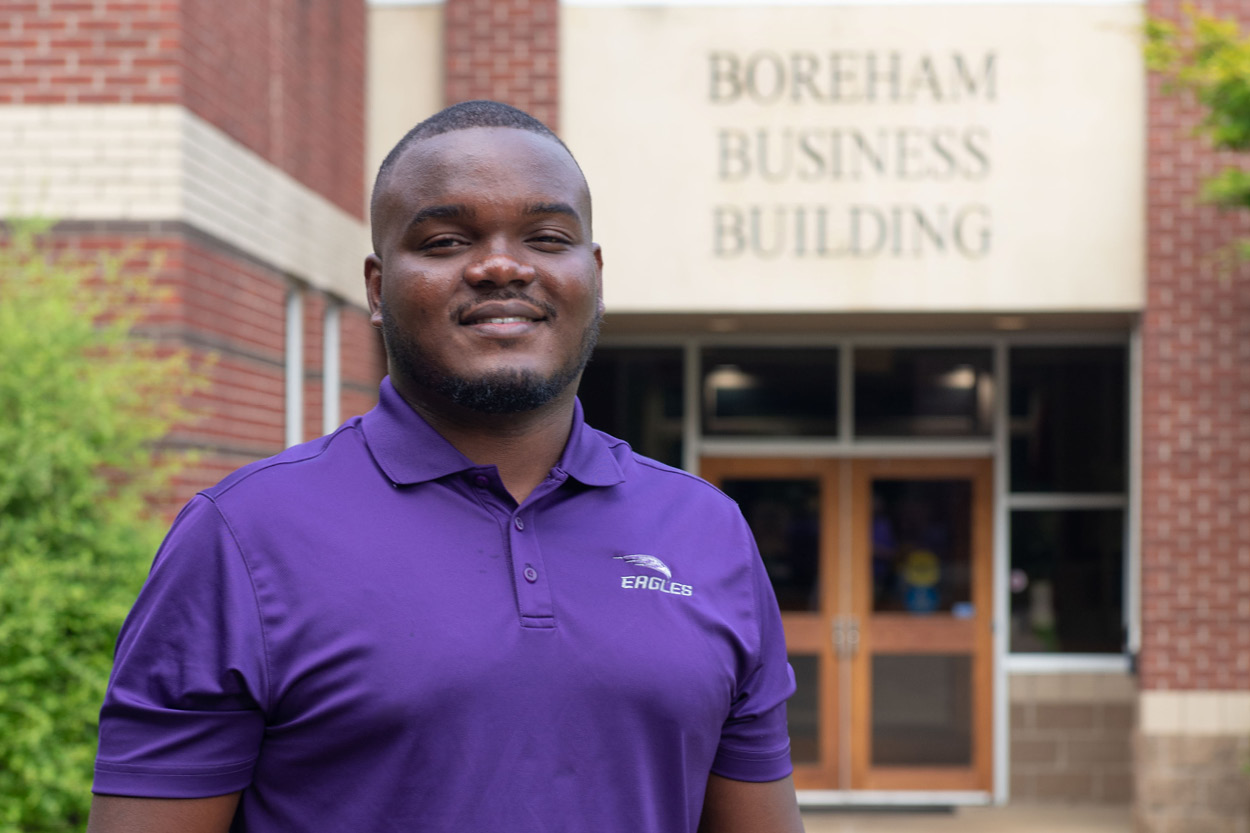 University of the Ozarks 2020 graduate Fabrice Cotin remembers sitting in his intermediate accounting I class as a sophomore at Ozarks when he first heard about The Big Four.
The Big Four is the nickname used to refer to the four largest accounting firms in the United States. Those firms — Deloitte, Ernst & Young, PricewaterhouseCoopers and Klynveld Peat Marwick Goerdeler — audit the financial statements for the vast majority of companies in the S&P 500.
At that moment in class, the native of Port-au-Prince, Haiti, made it his goal to get a job at one of The Big Four.
"Something just clicked at that moment and I knew I wanted to work for one of those companies," Cotin said. "Those are the best of the best accounting and financial services companies in the world and I decided then that it would be my mission to get a job at one of them."
Mission accomplished.
While completing a master's degree in financial mathematics at the University of Tampa this past year, Cotin secured a full-time position with Deloitte. He will begin work as an audit and assurance analytic specialist in the company's Houston, Texas, office in August.
"It was an incredible feeling to get that phone call and be offered a position with Deloitte," Cotin said. "I had applied for internships and jobs with The Big Four probably a dozen times over the past few years and was always missing something that kept me from getting hired. Each time I got rejected, it just made me that much more determined."
The high-achieving Cotin earned his bachelor's degree in accounting and business administration at Ozarks in just three years, graduating with Magna Cum Laude (3.50-3.84 GPA) honors. He achieved his master's degree from Tampa in one year while serving as a graduate assistant.
Cotin considers it a small miracle that he was even able to attend college. Though he was a good student in high school in Haiti, Cotin put on hold any plans of attending college after his father suffered a stroke.
"I had decided I wasn't going to attend college, but then [former Vice President for Marketing and Enrollment] Reggie Hill talked to me about coming to Ozarks and my parents supported that decision," Cotin said. "I felt I owed it to my parents to make the most of the opportunity. "
He credits his professors at Ozarks, specifically Joel Rossmaier, associate professor of accounting, for helping him succeed at Ozarks and beyond.
"I had planned to be a math major until I took an accounting class with Professor Rossmaier, and that experience changed the direction I was headed," Cotin said. "He showed me the possibilities I could have in accounting. He not only pushed and encouraged me in class, but more importantly he was always there for advice and counseling outside of class."
"All of my professors at Ozarks were demanding but at the same time helpful and encouraging. They helped me develop the work ethic and discipline that served me well in graduate school and that will serve me well for the rest of my life. There's no doubt that I wouldn't be where I am today without Ozarks."
Cotin was one of the first Haitian students to attend Ozarks and during his time at the University he served as a student-worker in the Office of Admission, helping other Haitian students get enrolled at the college. His duties ranged from assisting incoming students with their visas and passports, to driving students and parents to and from the airport, to helping dozens of Haitian students get acclimated to their new home away from home.
Even though he no longer works for Ozarks, he continues to work diligently helping young Haitians find the University. Ozarks expects to enroll more than 100 students from the Caribbean country this fall.
"I had this incredible opportunity to attend Ozarks and I want to do all I can to give other young Haitian students the same opportunity," he said. "If my story helps inspire other young people to follow in my footsteps or I can help someone with some paperwork or documents to help the process, I will do whatever it takes to connect them with Ozarks. This University changed my life and I want others to have that same experience."
With the recent assassination of the Haitian president leading to current political unrest and uncertainty in his home country, Cotin is even more determined to help his country's future.
"The key to the future of Haiti is education," Cotin said. "We've got to educate as many of the young people as we can so that we can put Haiti on the right course for its future. I plan to return to Haiti one day and do my part to help my country."
Topics: About, Accounting, Business Administration