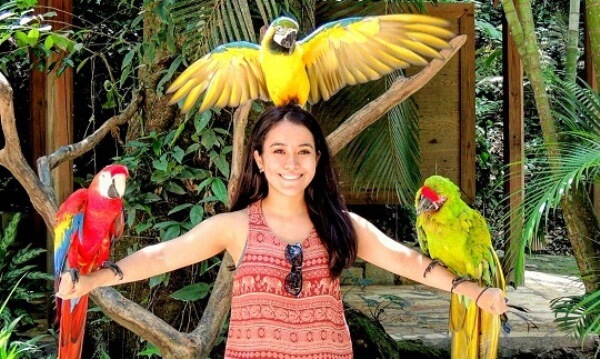 Maria Corea's essay "Authority and Power: Government's Integrative Role in Environmental Protection," took the top honors during the twelfth annual Earth Day Essay contest.
Corea, a sophomore business major from Honduras, won the $400 first-place Workman Award for her essay advocating that governments take a lead role in protecting the environment.
Corea wrote: "Protecting the environment is a task that involves different levels of society. And only government possesses the necessary authority and power to engage corporations, organizations, and the public in this important matter, through policies that protect ecological reserves and regulate corporate activities, and the cultivation of an environmental culture. Temperatures are rising. Forests are disappearing. CO2 emissions are at record highs? Because of the multiple damage that has been done, and the future dangerous repercussions on the environment, the planet needs integrated actions. And government's role as a lawmaker, regulator, and educator should make this cooperation possible, and thus ensuring that future generations can enjoy a healthy environment."
The second-place prize of $300 went to JaeLynn Huckaba's essay, "Pale Blue Dot?Bright Green Responsibility."
Third-place went to Jasmine Rosales' "Earth Day Essay," and fourth-place went to Samuel Binns' essay, "Covenants of Governance: The 'Eco' in Economics."
Event organizer Brian Hardman, professor of English, said 15 students submitted essays in this year's contest. The judges for this year's competition were Debbie Eldridge, Doug Denne, and Allison Freed
Prizes for the top four places were donated by long-time Ozarks supporters Dr. Wayne and Betty Workman.
The essays can be read via the links below:
First Place: Maria Corea, "Authority and Power: Government's Integrative Role in Environmental Protection"
Second Place: Jae Lynn Huckaba, "Pale Blue Dot?Bright Green Responsibility"
Third Place: Jasmine Rosales, "Earth Day Essay"
Fourth Place: Sam Binns, "Covenants of Governance: The 'Eco' in Economics"
Topics: Traditions