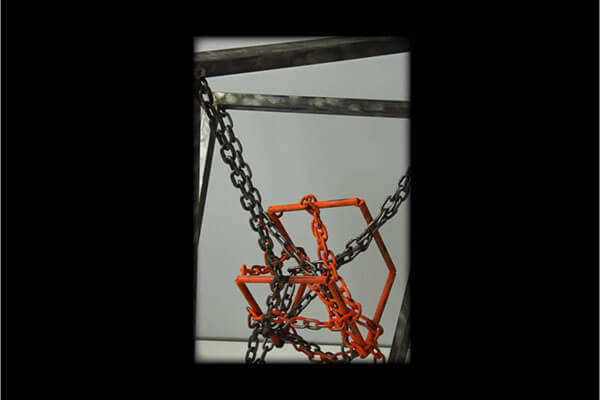 University of the Ozarks art major John Guthrie will present his senior art show, "Constructing Memory," from April 24-30, in the Stephens Gallery.
There will be a reception to meet the artist from 5-6 p.m. on Friday, April 27, in the gallery, located in the Walton Fine Arts Building.
An art major from Wichita, Kan., Guthrie is scheduled to graduate in May. The sculptures in his senior show utilize industrial material such as concrete, brick and steel.
"These structures that bind our cityscapes and our memories are often made of materials that are meant to last and endure," he said. "These materials intrigue me because their main purpose is to provide strength and simplicity as they blend into their surroundings. I use steel in my sculptural works to emphasize the simplicity and strength of the material, inspired by these monuments of urban progress."
Guthrie said "Constructing Memory" is based on the idea "that time is constructed from both personal memory and the memory of events from those before us."
"These memories are bound to specific times and places; events are often bound in our minds to the structures in which or near which they occur," he said. "As I travel past the structures in urban cityscapes, I must always take a pause to ponder the memories bound to the area. When I see structures like skyscrapers, rail-yards, and grain silos, my own experiences become connected with those who were here before me."
Guthrie said that when he builds a sculpture, "I work quickly, reacting to form as it comes together in collaboration with the material. My steel sculptures embody the characteristics of these urban structures through their use of airy, geometrical, monochromatic forms. My work employs many visual contrasts, including hard lines and those more organic in nature, patches of rust on smooth raw surfaces and soft curving forms and those more geometric."
"With these forms, I hope the viewer to be a part of the memory created in this space forever bound to these works. And remember these works for how they are."
Guthrie said he hopes his steel sculptures leave an impression on its viewers.
"I hope the experience of my steel sculptures binds them to the viewers' memory," he said. "Through the use and arrangement of this common industrial material, my work strives to bring a heightened awareness of the structures surrounding us in our daily lives."