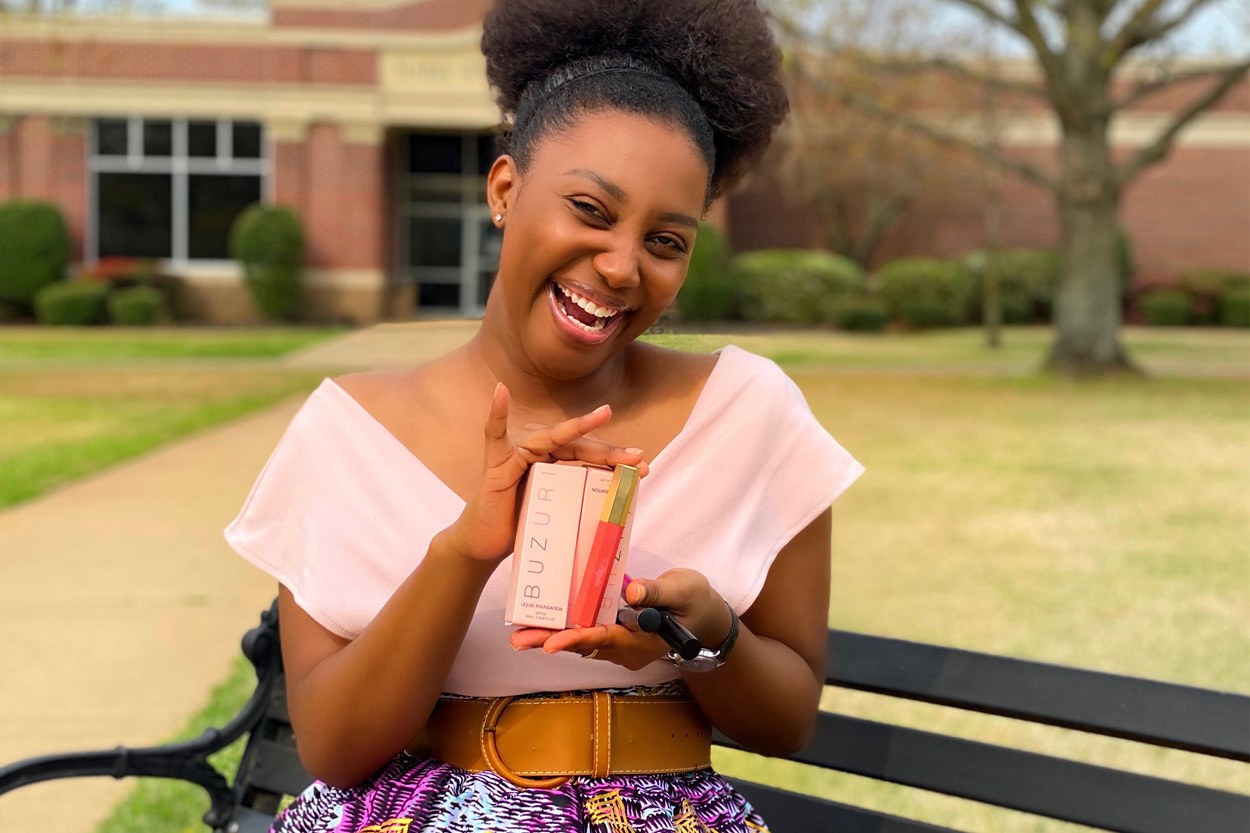 Gloria Cizungu has always had a fascination and love for cosmetics and, thanks to University of the Ozarks, she's well on her way to turning that passion into a career.
Cizungu is a senior business administration major from the Democratic Republic of Congo, a country of about 84 million in Central Africa. While she's not scheduled to graduate from Ozarks until December 2020, she's already combined her love of cosmetics with an entrepreneurial spirit to launch her own cosmetics brand a few months ago.
"I started doing makeup for people in 2016 back home, but I realized that it was so hard to get good products there and almost impossible if you were not wealthy," Cizungu said. "I've always loved everything about cosmetics and I like looking good and having good makeup on. So in 2017, I started planning to have my own makeup brand."
Cizungu decided to tie her country's highly diverse linguistic landscape into the naming of her business and cosmetics line. While French is the official language of the country, there are more than 200 living languages spoken in the country. Kituba, Swahili, Tshiluba and Lingala are the country's four national languages.
She calls her business Buzuri, which means "beauty" in Swahili. When she launched her first products this past December, she named the collection Elimu, which means "education" in Lingala, because, "I believe that people can be educated through makeup." The collection was composed of lipsticks, each of them named in honor of Congo's national languages, plus some of the North Kivu (one of Congo's provinces) languages.
"My favorite part of having my own brand is the education aspect of it," Cizungu said. "I love it when I can explain what Buzuri means or I can tell people the meaning of my lipstick names. That makes me very happy because I feel like I'm sharing the pride of my country with them and helping to educate them about the languages of my country."
Ironically, it was language that was Cizungu's biggest obstacle when she enrolled at Ozarks in January of 2017 after learning about the University from a family friend who was an alumnus. She studied English for only about three months at the Congo American Language Institute (CALI) before enrolling at Ozarks.
"I thought I was a ready with my English, but I quickly realized that three months was not nearly enough," she said. "The first few months were the hardest of my life. I didn't have any friends and if you didn't speak French to me it was hard for me to talk to you. I even remember having a roommate my first semester who I couldn't even communicate to that our room was too cold. I had to Google everything. It was very painful, but I just started reading everything I could. I turned every one of my electronics to English and started doing everything — music, movies and books — all in English. I started making some friends and just continued to work on my English. It's amazing how far I came."
She said her professors were the ones who made a difference for her during that first semester.
"They were really my angels because they knew I had a language problem and they were patient and worked with me," Cizungu said. "They were very encouraging and helped me to continue to improve. I remember when my I got my grades that first semester and receiving congratulations from some of them. I was crying that day. They truly are my mentors and some of them don't even know how much they've helped and motivated me."
That type of help has inspired Cizungu to look for ways to serve.
"When I didn't have my family here, I saw people assisting and helping me through my hard times," she said. "I even had somebody drive me two hours to a hospital during the summer when I was not feeling good. That made me realize what an impact we can all have on each other by helping one another. From then on I made myself a personal challenge to volunteer my time or service at least once a month for an entire year. That's been a very rewarding experience."
A curriculum concentration on international business and its bevy of business classes have been especially inspiring to Cizungu as she contemplates ways to grow and expand her cosmetics brand.
"I think about classes, such as my business communication class or my finance class, that have been so helpful in giving me skills and knowledge that I can use in my own business," she said. "Studying business here at Ozarks has really opened my eyes to so many things. I believe I've learned things in all of my classes that will help me be a better business person."
Cizungu's cosmetics are produced in Canada and then, with the help of an uncle, shipped to her to be branded. She hopes one day to produce her own makeup in Congo and have her own cosmetics line in all 26 provinces of Congo.
"When I see people, especially Congolese, buying my makeup, I cannot describe my feeling," she said. "It used to make me cry with happiness. My goal is to grow my makeup company back home and give my country access to high quality and affordable makeup. From there, I want to expend Buzuri makeup and export it all over the world.
While her goals may seem lofty, Cizungu has already proven that she can overcome long odds.
"When I moved here, I was not even sure I was going to make it to today," she said. "Thanks to my vision and determination and to professors who pushed and challenged me, I have been successful. Now I know that it doesn't matter which country you come from or what your background is. What matters is that believe in your vision and that you fight for it. Yes, I dream very big, but it's because I believe in myself. Believe is a magical word that everyone should carry with them wherever they go."
Topics: About, Business Administration, International, Student Stories