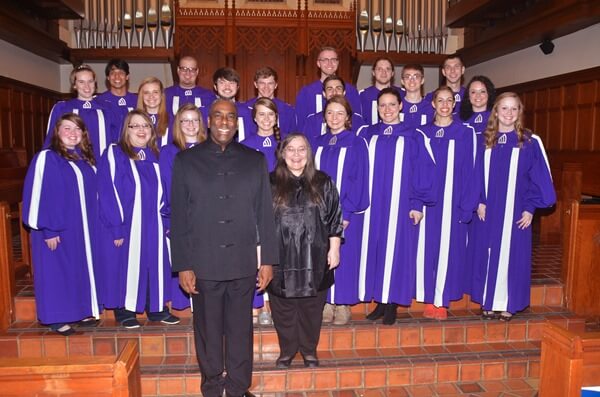 As a performer, it can be an exciting challenge to tackle a new musical style or vocal technique. Whether you're an amateur or a seasoned professional doesn't really matter. It's a chance to push yourself – to refine your musical skills and to find out more about your vocal capabilities.
But what if you had a chance to do more than just learn that new musical style? What if you could learn under the direction of a performer recognized around the world for his mastery of that style?
In February 2014, students in the Ozarks Chamber Singers had the opportunity to do just that when New York choral conductor, professor and baritone Ira Spaulding came to campus to perform.
Spaulding's voice has been described as "deeply beautiful, rich and expressive," and it has taken him on a career spanning more than 30 years and 60 countries. At Ozarks, he would perform "A Concert of Spirituals," featuring arrangements of African-American spirituals. For four of those arrangements – "Wade in the Water," "Lazarus," "I Wanna Be Ready," and "Precious Lord, Take My Hand" – students in the University Chamber Singers would be joining him on stage.
Concert video filmed and edited by Rebecca Phillips.
The African-American spiritual is a musical style that was totally new for the students, and learning to perform it with an air of authenticity in such a short period of time was going to take some intense practice. To help them prepare, Spaulding held a series of pre-concert choral workshops over the three-day period leading up to the concert, teaching them the subtleties of that genre.
"I have to say that it was very challenging for me to adapt to a musical style that I'm not used to performing, but Ira Spaulding made it a great pleasure," said Mollie Palmer, a senior Early Childhood Education major from Benton, Ark. "He treated us all like wonderfully talented singers and corrected our mistakes in endlessly creative ways that kept us laughing. I was amazed by how much we were able to accomplish in just three days of working with him."
"Those who attended the pre-concert choral workshops – both participants and observers – were struck with his prowess as a teacher and marveled at the sound he was quickly able to elicit from a group composed mainly of non-music majors," said Dr. Sharon Gorman, Walton Professor of Music and University Organist.  "He also did extra work with the student soloists and was able to help them make immediate and striking improvements to their singing in a very short time."
Kimberly Peters, a junior music major from Hagarville, Ark., was among the soloists who worked one-on-one with Spaulding.
"Because Spirituals weren't what we were used to singing, he taught us all about the style of African-American songs, starting from the rhythm (he made us dance!) and critiquing all the way down to the grammar (we sang 'Chillen' instead of 'Children!')," Peters said. "He completely transformed our voices to more confident, fuller sounding voices."
Gorman said that the sense of enthusiasm and confidence Spaulding instilled in the students caused many of them realize, for maybe the first time, that even though they attend a small college, they are capable of making high-quality music.
"[Ira] made them aware of their capabilities and excited about improving their skills," she said. "However much I may tell them these things, somehow having a guest musician say it makes a much more significant impact.  A couple of the students are even talking about grad school in music now."
One of those students is Meredith Childre, a sophomore from Wylie, Texas, who is majoring in music.
"The performance with Ira Spaulding was spectacular to say the very least, and for me, it was a turning point in my educational career," Childre said. "Ira has the strangest way of making you feel so comfortable around him, even if you just met him a few minutes ago. He brought out a special sound in all of us that we didn't know we had. It was during his exhilarating rehearsals and breath-taking performance that I was inspired to pursue vocal performance at both Ira and Dr. Gorman's alma mater, Westminster Choir College."
While the workshops were focused on technique and mastery of the musical style, many of the students felt the experience had taught them more than simply how to perform the music.
"In spending those few days with Ira, we experienced what true music is, especially Negro Spirituals. Music isn't just entertainment. Music is putting yourself in the most vulnerable state to tell the story of love, hate, hope, misfortune, and life," Childre explained. "Working with Ira changed my perspective of music and what I could accomplish with my gift of song. I am so grateful that he conducted this group of fantastic musicians. Before he came here, Ira was just a friend of Dr. Gorman's, but by the time he left, he became a teacher, mentor, friend, and a part of our small family."
Peters echoed that thought. "I was so enlightened by his knowledge in the performance arts!" she exclaimed. "I know that first day we all stood attentive with ears open, hanging on his every word. Honestly, I believe we all expected him to come in and critique EVERYTHING we had already worked on in our pieces. However, Ira was very pleasantly surprised and excited with how progressed we already were! (Dr. Gorman does a wonderful job!) We were off to a good start, and the techniques and exercises Ira led us in were exciting and different from what we were used to."
The intense preparations paid off when the group took the stage with Spaulding for the concert. Raymond Munger Memorial chapel rang out with the sounds of music that had carried countless individuals through some very dark days. "A week later the singers are still buzzing over the experience," said Gorman. "One faculty member in attendance later emailed a thank you to me for arranging this concert, saying 'Mr. Spaulding stole my heart.'"
For Gorman, the experience was a particularly satisfying one. Not only were her students able to work under the direction of a world-renowned musician, it was also a chance for her to reunite with her former colleague. "I was his accompanist when we were undergrads at Westminster Choir College and to be able to collaborate with him 37 years later as mature musicians with life experience was an absolute delight," she said.
"I am honestly so amazed at how much our choir became, not separate sections, but one beautiful sounding choir," Peters said afterwards. "I'm so blessed to have gotten to perform with such a talented and experienced individual, and I'm glad we received a history lesson along the way! I really hope he can come back again sometime!"
Topics: Music