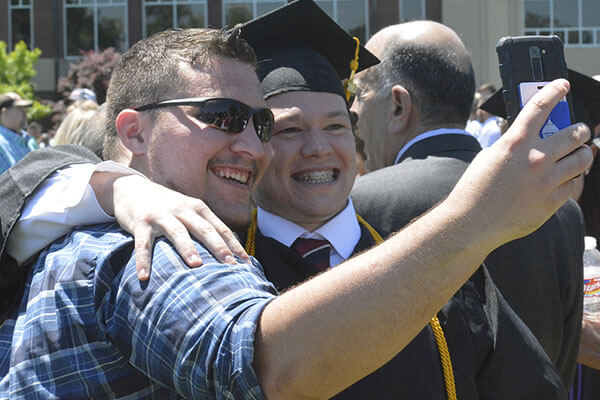 University of the Ozarks will award bachelor degrees to 101 graduating seniors during its 2018 Spring Commencement ceremony, scheduled for 10 a.m., Saturday, May 12, on the campus mall.
Dr. Eric Steinmiller, a 2002 Ozarks graduate who is an educator, instructional leader and administrator in Chicago, will serve as the keynote speaker during Commencement.
A Baccalaureate service will be held at 4 p.m. on Friday, May 11, in Munger-Wilson Chapel, followed by the Brick and Coin Ceremony on the campus mall. Families of the graduates are invited to attend Friday's events.
Originally from Arkadelphia, Ark., Steinmiller has served as a teacher and administrator for 15 years in Texas, Louisiana and Illinois. Currently, he has taken on a new role as an administrator for an under-performing, under-resourced neighborhood school at Roosevelt High School in Chicago. He is leading the development of the Special Education program, English Language Learners program servicing a large number of refugee students. He is building instructional practice and accountability while establishing systems and structures for continuous improvement.
He was recently the head master and principal at Sutherland Elementary in Chicago, where he developed an International Baccalaureate curriculum and eliminated the achievement gap between white and African American students in reading and math, while demonstrating increasing performance on national growth in both areas. He also improved special education student performance from 52nd to 99th percentile in reading and 56th to 86th percentile in math amongst national peers.
After graduating from Ozarks, Steinmiller went on to earn a master's degree in art history from the University of North Texas and an Ed.D. in urban education and leadership from the University of Illinois at Chicago.
The student's welcome at Commencement will be provided by Ariana Lujan, an elementary education major from Little Elm, Texas.
University Chaplain Rev. Jeremy Wilhelmi will provide the proclamation during the Baccalaureate service.
The Commencement ceremony will be livestreamed on the University's Facebook page.
Topics: About, Community Events, Student Events, Traditions