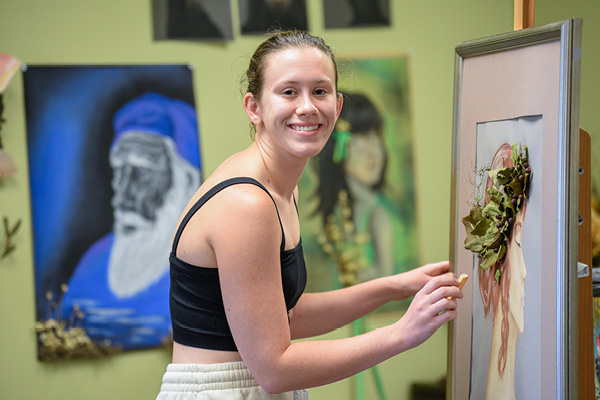 University of the Ozarks senior Shalley Coffin will present her Senior Art Show titled, Human Nature, from Nov. 22 through Dec. 3 in the Stephens Gallery.
There will be a reception to meet the artist from 7-8 p.m. on Nov. 30, in the gallery, located in the Walton Fine Arts Center. Coffin will also present an Artist Talk at 7 p.m. on Dec. 2, in Baldor Auditorium in the Boreham Business Building.
Coffin, an art major and education and environmental studies minor from Waco, Texas, said her artwork is influenced by the natural world and how it intertwines with the human body and its own nature.
"As a mixed media artist, I combine three-dimensional natural elements, such as plant life and insects, within my two-dimensional works," she said. "There is a great divide when thinking about the nature of life and death of humans, flora, and fauna. In Human Nature, the works explore the combination and life cycle of both humans and nature, giving us a view that is both beautiful and terrifying."
Coffin's installations contain a variety of natural and once living organisms.
"Difficult and endangered species that are rarely seen, I mimic and recreate on paper," she said. "This process and technique I use within my art shows the viewer see how nature fits so perfectly into the human body. For example, my installation, Reaping the Harvest, depicts the last horseman Death. This piece was the first large scale piece I created that was inspired by my show theme. Death is a nature that rolls over us like a fog. It is a dangerous being, bringing sadness, sorrow, joy, and pain in the human vision, but when the fog rolls away, there may be new life that sprouts from it, similar to the recovery after a forest fire. When creating this piece, I thought of a Death that lightly dances around a life until they swoop in and dance the soul away. This is an easy Death to depict instead of one that is more gruesome or violent. Do not forget there are peaceful and welcoming deaths in the world as well. Death is a nature we must all greet when our time has come."
Her artwork also symbolizes how society has separated from nature.
"Ask yourself, when was the last time you stopped and looked at a flower or a butterfly fluttering past," Coffin said. "Sometimes I cannot recall when was the last time I saw a flower, insect or butterfly, or even looked up at the sky. We are in a digital world that we use to live, entertain, and communicate. With my installation, I hope to root people back into the nature that lives both in us and all around us."
One of her installations, Migration, consists of ceramic butterflies with both glaze and fabric to accentuate a realist look.
"These butterflies are much larger compared to their real species, causing them to stand out more," she said. "Each butterfly is located in different positions, as though they are really resting during migration. Most of them will seemingly be crawling on the wall while others will be resting on the flower sculpture. This draws the attention of viewers, simulating the rare occurrence of butterflies migrating to warmer countries or continents. My piece was originally inspired by the great monarch migration that travels through Texas into Mexico. Butterflies have always signified child-like peace and playfulness. These butterflies signify the childlike dreams of all people even those who have forgotten. Take time to remember and dwell in our nature, both inside and outside. You may find something that inspires you to see the world or yourself in a new and beautiful light."
Coffin has shown her works of art at the River Valley Arts Center Colligate Competition in both 2020 and 2021. She plans to move back to her native Waco following graduation.