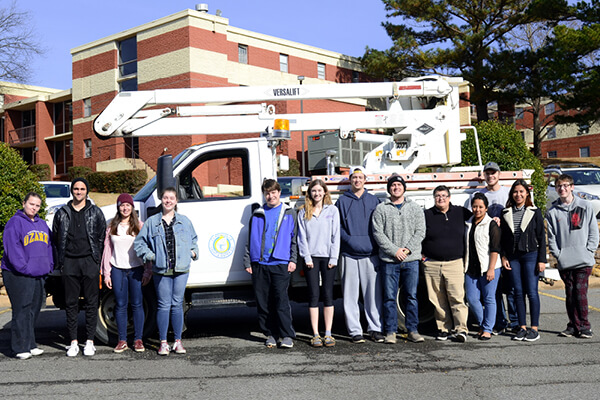 Students in Dr. Deborah Sisson's promotion strategies class received some real-world marketing experience during the Fall 2018 Semester by working on a project for Clarksville Light & Water (CLW).
The 15 students in the upper-level marketing class split into three teams of five to develop throughout the semester a marketing and promotion strategy for CLW's planned unveiling of new internet services through its fiber optic network. The three teams made their pitches to officials from the municipally owned utility company at the end of the semester and a winning team was announced during the week of finals.
"We tried to make it as realistic as possible for them—from working with a real client that has specific needs, to collaborating as a team to come up with a plan, to making their pitch to the clients," said Sisson, Baum Professor of Marketing. "I was very proud of the work they did and the effort they put into this project."
John Lester, general manager of CLW, said he was impressed with the marketing proposals and may implement some of the ideas.
"I was a marketing major in college and some of the ideas were ones we hadn't thought of and were quite good," Lester said. "I heard a lot of good ideas and tidbits of information that we might be able to use. I love the idea that college students are engaged in the process of thinking about and working on real projects. It helps them get a sense of what it's like to work on these projects and it gives us an opportunity to hear some new ideas and different perspectives."
The winning team of 360 Advertising was made up of Maria Corea, Dakota Ebarb, Ryan McNeill, Jamy Teni and Sam Todd.
Using a motto of "Small Town, Big Speeds," 360 Advertising's objective was to "inform and foster brand awareness and persuade customers," to switch to CLW internet services.
"We had different students from all over the world and with different backgrounds in our group and I think our different experiences helped us come up with some unique ideas," said Teni, a senior international business major from Guatemala. "It was a good mixture of knowledge and ideas."
McNeill, a senior strategic communication major from Rogers, Ark., said he enjoyed working on a project that had real-world implications and challenges.
"This wasn't hypothetical problems and solutions, these were real," he said. "For example, we had to consider the demographics of Clarksville and how people get their information here. We couldn't do an all-social media campaign, we needed to implement newspaper ads and flyers."
Some of the ideas that Lester especially like from 360 Advertising was having a city-wide "Fiber Day" to kick off the campaign and to use testimonials from residences who had made the switch to CLW internet services.
"We were looking for a centerpiece to revolve everything around and Maria had the great idea of a Fiber Day," said Ebarb, a senior business administration major from Nevada, Texas. "It was really exciting working on this proposal. You can read all about marketing concepts in books but it doesn't compare with working for a real client."
There was an extra bonus for the project — a crisp new $100 bill for each member of the winning team, compliments of their professor.
"This makes it extra sweet and will definitely help out with Christmas gifts," Ebarb said.
Topics: About, Academics, Business Administration