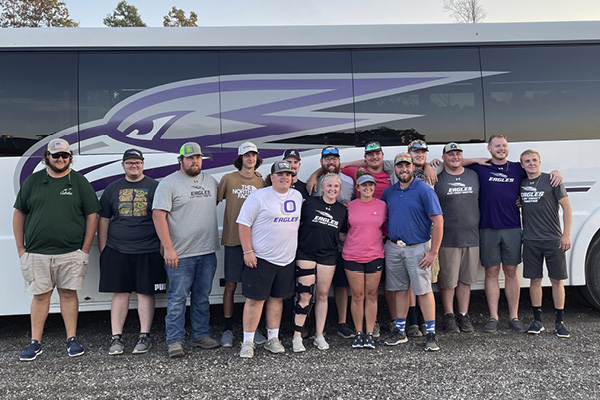 The University of the Ozarks' clay target shooting team continued its championship tradition by winning two Scholastic Clay Target Program (SCTP) National Championships over the weekend in Marengo, Ohio.
The Eagles brought home collegiate national championships in International Skeet and International Trap/Bunker. It is the first team national championships for Ozarks.
The group of Keaton Little, John Wagner, Wyatt McCaghren, Cameron Ziarko and Lane Klohn won the national championship with a score of 362 in International Skeet. The Eagles topped William Penn University in Iowa, which scored 359. Little paced the team by hitting 87 targets. Wagner followed with 85, and McCaghren, Ziarko and Klohn hit 68, 62 and 60, respectively. Little placed third overall in the competition, while Wagner finished fourth, McCarghren ninth, Ziarko 12th and Klohn 14th.
"We went into the competition doing what we do best: shooting one bird at a time," said Ziarko. "And when you put the practice and determination into play, you get awesome end results."
The group of Jacob Tucker, Clayton Villines, Ziarko, Mason Malin and Corbin Cooper won the national championship in International Trap/Bunker. The Eagles again topped William Penn University for the title. The Eagles hit 385 targets, while William Penn hit 378. The Eagles beat out eight other programs, including the University of Alabama, to win the title. Tucker paced the Eagles with 84 targets. Villines hit 76 and Ziarko, Malin and Cooper each hit 75. Individually, Tucker was second overall in International Trap. Villines placed 10th, Ziarko 11th, Malin 13th and Cooper 15th.
"This has been a long road to get to this point," said Malin. "There has been a lot of hard work and time put into getting here, and to have it all come together for the team's first national championship is an amazing feeling."
The Eagles placed sixth overall at the championships.
Kyleigh Hepner was the top female finisher for Ozarks, placing 45th in the High Overall (HOA) standings. Little was the men's top finisher placing 13th overall in the HOA standings.
It is the first year the program has competed in the SCTP College Nationals. There were 16 universities represented at the event.
The clay target program has won three individual national championships to now go along with its first two team championships.