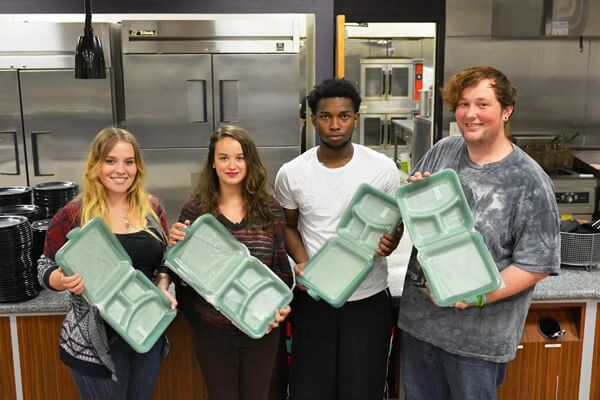 A group of students have turned a class project into an environmental-friendly policy change on campus.
Five students in Dr. Kim Van Scoy's environmental science class last semester took on as a group project an effort to reduce the use of Styrofoam in the University's cafeteria. Because of their actions, the cafeteria is now using reusable eco-friendly to-go boxes called Eco-trays instead of Styrofoam boxes.
The students who worked on the project were Wesley Needham, Skyla Tinkle, Devante Withers, Lynnette Clarke and 2015 graduate JoJo Compton.
The group not only got an "A" on the project, they changed a long-standing policy of using Styrofoam to-go boxes in the cafeteria. There are numerous environmental health concerns associated with Styrofoam, including being non-biodegradable and containing human carcinogens.
U of O students (from left) Lynnette Clarke, Skyla Tinkle, Devante Withers and Wesley Needham were part of an environmental science class project that led to the University cafeteria changing from Styrofoam to-go boxes to Eco-trays.
"It started out as just another dreaded group project," said Tinkle, a sophomore biology major from North Little Rock. "However, the more research we put into the topic, the more our opinions of this particular environmental issue grew."
Stephen Kerr, ARAMARK food services director, said the cafeteria was going through about 800 Styrofoam boxes a week last year.
"I was excited when the students approached me about this idea because we want to be as eco-friendly as possible," Kerr said. "It was something that needed to be driven by the students and have as much student buy-in as possible, and this group of students took on that challenge."
Withers, a business major from Little Rock, said he was surprised when he started doing the research on the effects of Styrofoam and the amount of the product the cafeteria was using.
"It really was a wake-up call for me," Withers said. "We knew there had to be better alternatives than the current one."
Clarke, who worked in the cafeteria last spring, was amazed how quickly the idea picked up steam last semester.
"I knew from working in the cafeteria that Mr. Kerr was very pro-active in listening to students and in trying to be eco-friendly," said Clarke, an environmental studies major from Leander, Texas. "From the very beginning everyone seemed to be on board with the idea and the word got around pretty quickly. Even the president of the university had heard about it before too long."
The new Eco-trays are reusable, break resistant, washable and can last up to four years. There were, however, a couple of potential roadblocks to making the change: Working out the logistics of using and washing the Eco-trays and the fact that students were going to have to pay a one-time deposit of $5 for the Eco-trays. The $5 is reimbursed to the students at the end of the academic year.
"Mr. Kerr really helped us work out the logistics of students bringing the Eco-trays back to get them washed and getting a ticket," said Needham, a sophomore environmental studies and political science major from Earle, Ark.  "We also did a survey and asked students if they minded paying $5 and almost everyone was OK with it. That was a little surprising to us, but I think it shows the commitment to sustainability on this campus."
Tinkle said that sustainability and the environment should be important to everyone.
"These topics should be every human's obligation to preserve the Earth on which we live and rely upon," she said. "The ecological footprint of the majority of people exceeds what the Earth can replenish in sufficient time as it is currently. Small and large steps such as the ones made to reduce Styrofoam waste help this global cause, and we must remain focused on respecting our home on Earth."
Needham said the University's efforts in sustainability and the environment was a big reason he chose to attend Ozarks.
"One of the big things I notice now is that when you walk by trash cans on campus they aren't overflowing with Styrofoam boxes," said Needham. "I'm proud that we were able to help make that change. It is very important to me that we be activists for sustainability which was one of many reasons I decided to attend University of the Ozarks. The passion our community has for the environment is great. The campus has water-bottle friendly water fountains and is continually looking to grow and improve consciously about the environment."
Topics: Environmental Studies