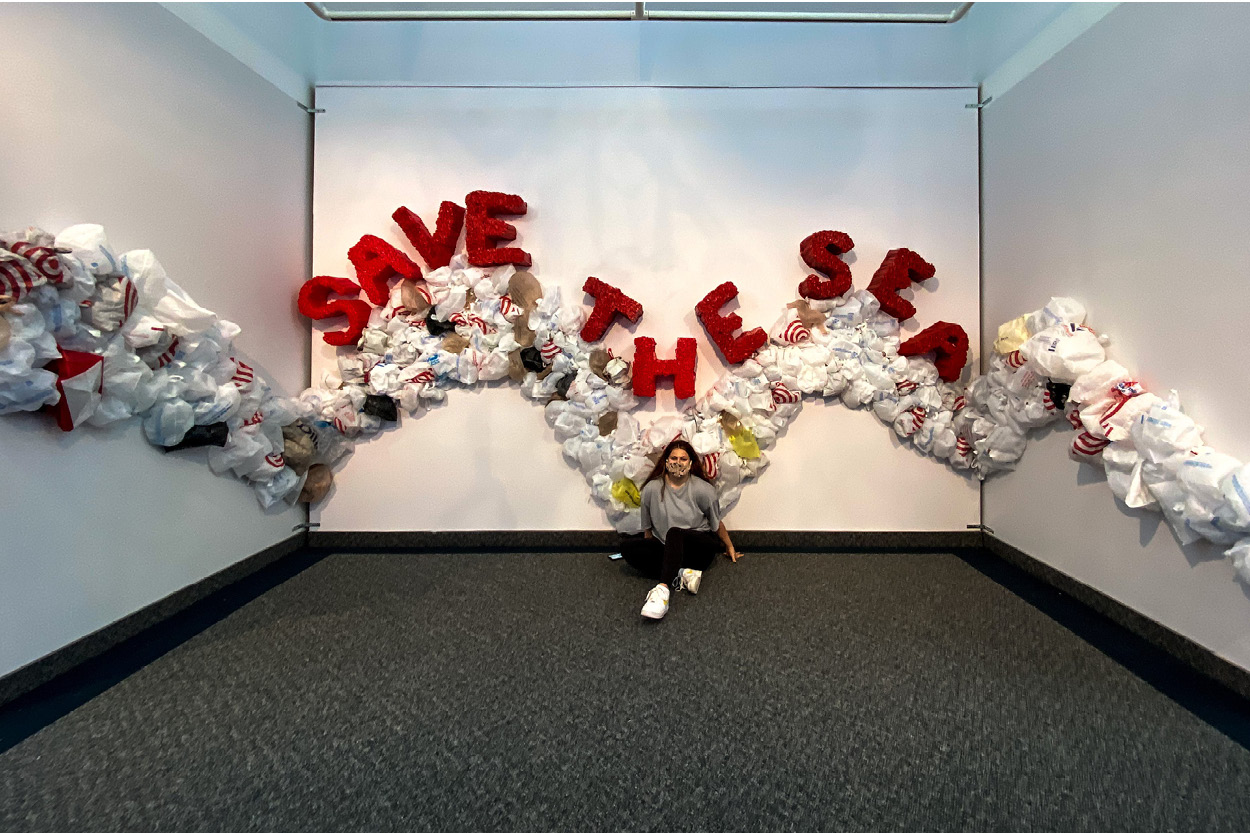 University of the Ozarks art major Madison Clary of Tulsa, Okla., will present her Senior Art Exhibit, "Save the Sea," from April 13-26 in the Stephens Gallery.
Madison will present an artist lecture at 5:30 p.m. on Wednesday, April 14, in Baldor Auditorium. This event has a limited in-person capacity, but will be shown via Zoom at:
https://ozarks-edu.zoom.us/j/97487888722?pwd=RCtYTUgxY3cybEJIVy8vVTBLSmtmUT09
There will also be a reception to meet the artist from 6-7 p.m. on Sunday, April 18, in the gallery.
Clary said the motivation for "Save the Sea" was to create "a sense of panic in the audience as they see the effects of pollution in the ocean."
"My art does not over-dramatize pollution, but presents it in real life scenarios," Clary said. "The realistic look of my work explores the recurring problem of material over-consumption."
Clary said her large installations use organic shapes and a variety of materials and colors to explore human impact on the environment.
"I incorporate recycled materials such as plastic bags and bottles and combine them with ceramic pieces to help the viewer connect the objects of their life with their impact on ocean life," she said. "For example, my installation, 'Swallowed,' is based on how jellyfish interact with the floating blobs of plastic in the ocean. As they capture their prey in the masses of plastic they also mistake the plastic for food. This confusing environment of the entangled jellyfish causes them to mistake their tentacles for food. To create the free and light movement of the jellyfish, I made them out of delicate materials like tulle, wire, and thin porcelain. The jellyfish float in the gallery above the viewers head to create the experience as if the viewer was at the bottom of the ocean looking up."
Other pieces in the exhibition use mixed materials, such as recycled plastic, fabrics, wires, and add clay, cement, and resin for different weights and textures. Clary said this use of multiple materials "captures the dense, grimy aspects of pollution while also creating moments of beauty to celebrate the tenacity of life in the ocean."
Clary, who is minoring in marketing and environmental studies, said her aspiration is to convey scientific information in a visually stimulating environment.
"I hope to bring awareness to viewers and to convince them to change their behavior," she said. "I capture the attention of the viewer through my choice of form and color. From far away, one would see a flowing, colorful, shiny form, but as the viewer draws closer their experience would shift to see a realistic grimy and filthy environment."
Clary's exhibit also invites the audience to participate by placing a baby sea turtle in the environment of their choosing.
"This action helps the viewer connect the consequences of their behavior to the ocean life they are affecting," Clary said. "We are not able to understand how vast the ocean is, so my work serves as a reminder of this huge and complex issue. This is a problem we cannot sense as it is hidden underneath the ocean surface."
Topics: About, Art, Exhibit, Student Events