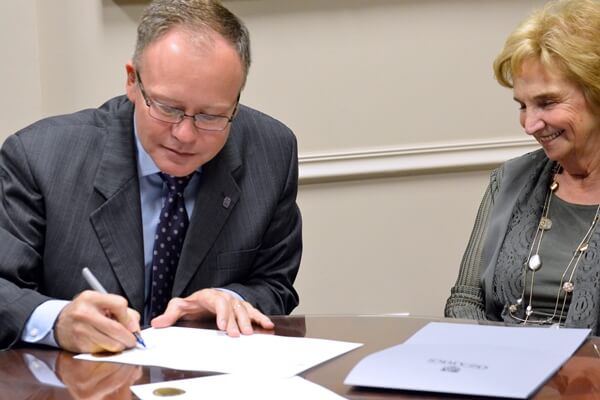 The P.E.O. Chapter "Q" of Clarksville has established a $500 scholarship that will be awarded each year to a female freshman at the University.
The agreement was signed by P.E.O. chapter president Joe Ann Young, a 1957 Ozarks graduate, and University President Richard Dunsworth in May. Also attending the signing were Chapter "Q" members Dr. Jane Cater, a retired communications professor at the University, and Dawn Dvoracek, director of church relations at U of O.
According to the agreement, the scholarship will be awarded annually "to an incoming female freshman student with a minimum of a 3.0 high school grade point average with preference given to a resident of Johnson County, Arkansas."
"This scholarship is consistent with P.E.O.'s mission of promoting educational opportunities for women," said Young. "We're pleased to be able to offer this scholarship for young women from Johnson County who are eager to learn and to continue their education at University of the Ozarks."
P.E.O., which stands for Philanthropic Educational Organization, was founded in 1869 to promote the educational opportunities for women. The organization has more than 250,000 members nationally. The Clarksville chapter was established in 1938.
University President Richard Dunsworth talks with P.E.O. Chapter "Q" of Clarksville members (from left) Dr. Jane Cater, Joe Ann Young and Dawn Dvoracek during the announcement of a new annual scholarship established by the organization.
Topics: Scholarship