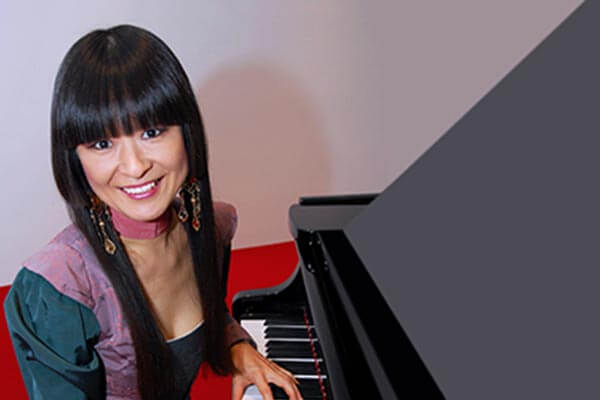 Chie Ishii, a 1986 graduate of University of the Ozarks who has gained international fame as a classical pianist and composer, will return to U of O for a concert on Thursday, Nov. 9.
The concert, which is part of the University's Walton Arts & Ideas Series, will begin at 6 p.m. in Munger-Wilson Chapel. There will be a reception in the lower level of the Chapel following the concert. The concert and reception are free and open to the public.
A native of Japan, Ishii has lived in Berlin, Germany, for more than two decades. Her current repertoire includes the famous works of romanticism, especially those of Frederic Chopin, and numerous original compositions of her own. She has released five solo albums with the works of Chopin and of her own, one album with classical works and one album with the compositions of German humorist and poet, Heinz Erhardt.
Ishii described her music as "modern classic."
"My performances are free, friendly and personal, not rigid at all," Ishii said. "I play my own compositions together with the pieces of the great masters. I've been called a cross-over artist and that's probably pretty accurate."
Ishii started playing the piano at the age of 4 and had her first public concert when she was 6 years old.  At the age of 12, she fell in love with the music of Chopin.  At the same time, she was fascinated by rock music and played keyboard in many different rock bands in Japan. She left Japan at the age of 19, studying music at Ozarks from 1982 to 1986 before continuing her education at the Berklee College of Music in Boston and Brevard Music School in North Carolina.
In 1997, she was the first audio-DVD recording artist in Europe. These recordings, "Berlin Affair 1, 2 & 3" were introduced at the international consumer electronic show in Berlin. In 2003, she formed her own rock 'n' roll band, "Breathless," in which she played the bass guitar and which she managed. She is also a piano teacher and an author of music books.
Ishii will be performing in the Munger-Wilson Chapel for the first time since her senior recital in the spring of 1986. She is dedicating her concert in honor of the late U of O President Fritz Ehren and his wife, Juanita, who served as her host parents during her four years at Ozarks.
Topics: Alumni, Community Events, Music