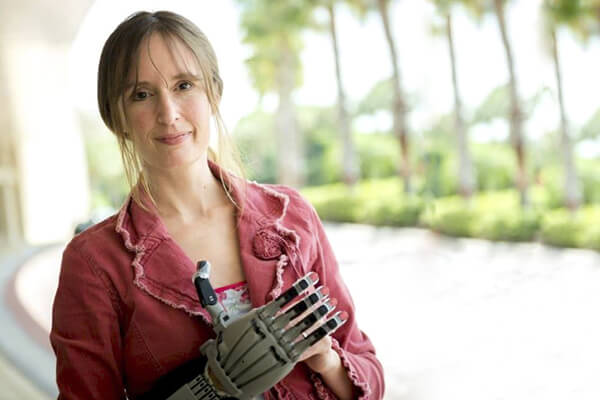 Jen Owen, a pioneering champion for affordable and accessible 3D-printed prosthetic hands and arms, will speak at University of the Ozarks on Thursday Oct. 25, as part of the University's Walton Arts & Ideas Series.
The event begins at 7 p.m. in the Rogers Conference Center. There is no cost for admission and the public is invited to attend,
Owen is the founder and owner of enablingthefuture.org, a website dedicated to sharing the open-source designs and stories from a global community of volunteers who are creating free 3D printed hands and arms for those who were born missing fingers or who have lost them due to war, accident, natural disaster or disease.
Her philanthropic focus in recent years has involved helping to found and collaboratively lead e-NABLE, a global movement of makers and digital humanitarians who strive to increase the accessibility of prosthetic hands for children and introduce 3D printing technology and curriculums into STEM-based learning environments around the world.
What started as a fun cosplay costume project in her family's garage turned out to be a catalyst in a series of incredibly timed events that led to the creation of the first 3D printed prosthetic hand for a single child in South Africa. It has since grown into a worldwide passion project of thousands of volunteers in more than 100 countries and 2,000 schools who have delivered more than 5,000 free 3D-printed assistive devices to children and adults in need of a "helping hand."
Owen's presentations have been called inspirational, personal and from the heart. Her examples of making a difference in the world leave audience members inspired and encouraged to use their ideas and imaginations to create collaborative programs in their own communities and start making a difference as well.
Owen is an internationally recognized blog author, photographer, storyteller, graphic designer and philanthropist from Washington State.
Topics: About, Art, Community Events