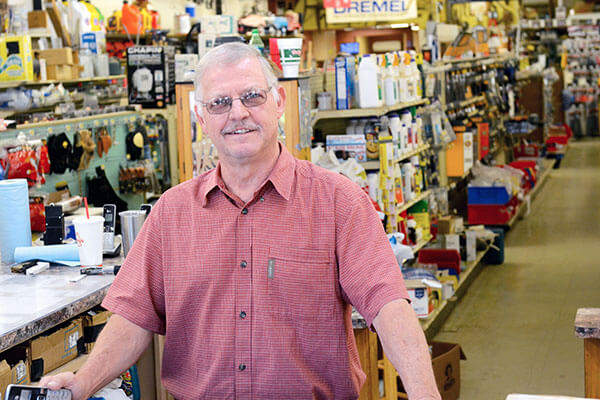 Kent Cecil's secret to a successful small business is quite simple.
"You treat all your customers the same, like they're a part of your family," Cecil said. "I try to learn everyone's name and treat them right. It's a simple formula, but it's worked for our business."
Cecil, a 1980 graduate of University of the Ozarks, is the president and CEO of Cecil Hardware in Clarksville, a business that has been a staple in downtown Clarksville since his parents, Jack and Katie Cecil, purchased the former Rice Hardware business in 1960.
Cecil has been selected to receive the Alumni Achievement Award during the Homecoming 2018 Alumni Awards Ceremony at 6 p.m. on Friday, Oct. 26, in the Rogers Conference Center. The Achievement Award is presented to an alumnus who "achieves recognition in his or her chosen profession or occupation."
"To be recognized by my University is quite an honor," Cecil said. "I look back on what the University has meant to me and all the great relationships I've had from there, it really is a great honor."
A business major at Ozarks, Kent has worked at Cecil Hardware since he graduated from college and began managing it in 2006 when his father, Jack, passed away.
"I was 5 years old when my parents bought Rice Hardware, so I basically grew up around the business," Cecil said. "I had some other jobs in high school, but I've worked full-time here since I graduated from college."
Cecil credited former Ozarks business professors James Perrett, Randy Hilton and Karen Hilton for their mentorship.
"I had some great professors in the business division and they gave me a great foundation that has helped me for the past 40 years," Cecil said.
In the age of on-line retail, Cecil Hardware continues to thrive thanks to its service-minded, personal approach,
"Today people can go on-line and buy just about anything, so then it comes down to relationships," he said. "We love the service part of it and helping people not only find the right parts but also to go that extra step, give them advice or help if they need it. There's no better compliment someone can give me than when they tell someone they know, 'Go down to Cecil Hardware, Kent can help you.'  It's that type of service and relationships that you don't get in on-line shopping and that's what keeps us going."
A prime example of Cecil's relationships in the community was evident this past summer when torrential rains caused flooding in the store and dozens of community members showed up to help in the cleanup efforts.
"It was very humbling to see that kind of turnout," Cecil said. "It makes you realize how special this community is and that maybe you've helped make a difference in the community. You can't buy those types of friendships and relationships."
Cecil Hardware remains a true family business. Katie is still involved in the business, as are Kent's wife of 39 years, Terri; children, Amber and Chase; and daughter-in-law, Derenda (Landry) Cecil.
For more information on the 2018 Alumni Awards Ceremony, please call the Alumni Office at 479-979-1234 or visit www.ozarks.edu/homecoming.