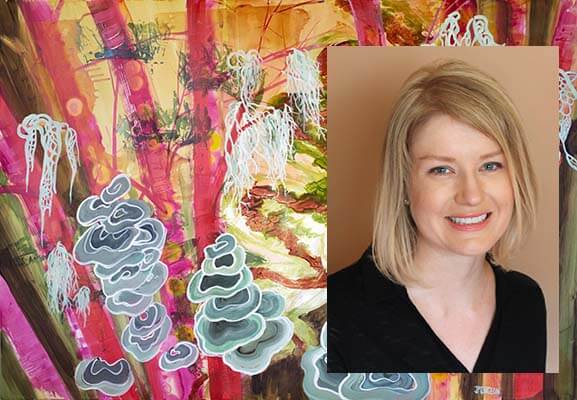 Arkansas Tech University Art Professor Jessica Mongeon will present a collection of her acrylic paintings in the exhibit, "Cascade of Scales," from Nov. 1-21 in the University of the Ozarks' Stephens Gallery.
The exhibit is part of the University's Artist of the Month series and is free and open to the public.
There will be an artist talk from 4-5 p.m. on Nov. 8 in Baldor Auditorium and a reception to meet the artist from 5-6 p.m. on Nov. 9, in the gallery, which is located in the Walton Fine Arts Center.
Mongeon explores geographic formations, organisms and natural phenomena through the medium of acrylic paint. She said "Cascade of Scales" refers to a succession of devices or stages in a process, each of which trigger or initiate the next.
"My work has evolved in a similar way: I started painting landscapes that have changed over a period of time, each series initiating the next step," Mongeon said. "These paintings explore the idea of scale in nature based on self-similarity. Self-similarity is when an object is similar to a part of itself; if you change the scale, such as looking at an object in a microscope or from a distance, the object will look the same. Fractals are examples of exact self-similarity and scientists have studied river networks as natural fractal structures. I observe nature through photography and scientific illustration and then abstract it through intuitive painting. The selected hues are vibrant and expressive rather than naturalistic, evoking a strangeness that appeals to the senses rather than reality."
Mongeon said she often combines lichen and mushroom imagery with human neurons.
"Temporality and scale are examined as I depict human neurons on the same scale as lichen or roots," she said. "Lichen operate on a much longer geological time scale compared to humans, with some species of lichen living over 1,000 years. Neurons must connect and communicate to keep the mind and body alive. Similarly, lichen is made of a fungus, an alga and often a yeast that work in symbiosis. By acknowledging our embodiment of nature, perhaps we can care for the ecosystems that sustain us as much as we care for our own bodies."
Mongeon has shown her artwork nationally and internationally, including group exhibitions in New York City and Shanghai, China. Her artist residencies include Vermont Studio Center; the Anderson Center at Tower View, Red Wing, Minn.; and the Sam and Adele Golden Foundation in New Berlin, N.Y. She received a master of fine arts degree in painting from Montana State University and a bachelor's degree in visual arts from the University of North Dakota. She grew up in rural North Dakota and now resides in Russellville, Ark., where she is a visiting assistant professor of studio foundations at Arkansas Tech University.
Topics: Community Events, Exhibit