OzARTS Art Club brought recycling to center stage last week as several Ozarks students, faculty, and staff participated in the second annual Recycled Fashion Show, where each design was made of at least 85% recycled materials.
For this competition, "recycled materials" were defined as materials that are not originally designed for clothing use and would normally be thrown away or recycled after normal use. In other words, if the materials were considered trash or would end up in the landfill after their normal use, they would be good candidate materials for use in making an outfit for the show. Participants were encouraged to use their creativity to reformat these non-clothing materials in a manner different from its intended and original use.
Associate Professor of Art and OzARTS Advisor Tammy Harrington helped organize the show and was more than happy with the show's results.
"I was pleased with the quality and variety of fashion designs in this year's show. The students' creativity is evident with the designs in this show," she said.
A stunning amount of creativity was certainly present in the winning entries.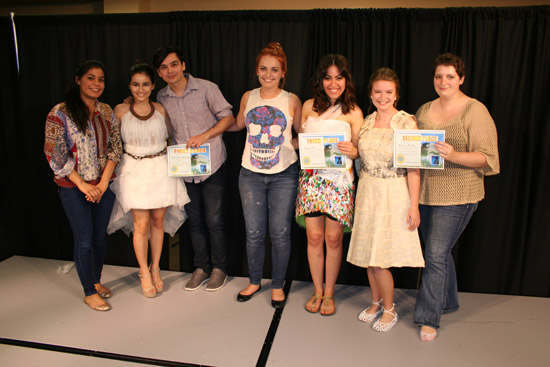 Winners of the 2nd annual Recycled Fashion Show were (from left): first place, Ester Diaz, Debora Castro, and Jose Carranza; third place, Abigail Kern and Carmen Castorena; second place, Mollie Palmer and Jessica Bowen.
Receiving third place was the design by Abigail Kern, junior art major from Wichita, Kan. Modeled by Carmen Castorena, freshman art major from Searcy, Ark., Kern's design featured a high-low hemline and ruched top layers made from aluminum cans, plastic bags, and a bed sheet.
Second place went to designer Jessica Bowen, senior English and philosophy major from Humphrey, Ark., whose dress was modeled by Mollie Palmer, a junior early childhood education major from Benton, Ark. Bowen's dress was made from the pages of an old leather-bound Shakespeare book that was falling apart. The shoes also used pages from the book, along with crocheted shopping bags.
Designers Jose Carranza, a senior art and marketing major from Grecia, Costa Rica, and Ester Diaz, a senior marketing and psychology major from Quetzaltenango, Guatemala, took the coveted first prize. Their soft white dress was made from fabric softener sheets. The flowing white material contrasted with the heavy horseshoe neckline. Their design was modeled by Debora Castro, a freshman from San Salvador, El Salvador.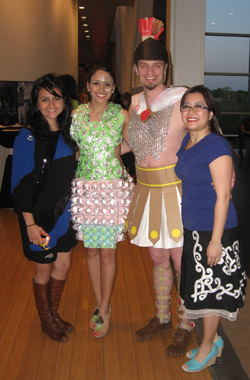 Anaeli Rodas, Brianny Pupo, Dr. Mikael Lindström and Tammy Harrington took to the road with their fashions, displaying them at "Curbside Couture" held at the Clinton Library in Little Rock.
Other designers who participated in this year's show were James Storer, a junior art major from Belcher, La.; Kurstein Keck, a sophomore art major from Pettigrew, Ark.; and Anaeli Rodas, a sophomore strategic communication and sociology major from Guatemala City, Guatemala. Storer's design was modeled by Chelsey Becker, a sophomore general business and art major from Claremore, Okla., while Brianny Pupo, a sophomore marketing and management/administration major from Managua, Nicaragua modeled the design by Rodas.
Harrington also designed a piece for the fashion show. Associate professor of music Dr. Mikael Lindström modeled Harrington's gladiator design, a cardboard, paper, and plastic creation complete with aluminum can tab chain mail.
On Sunday, April 21, Harrington and Rodas also displayed their designs at Curbside Couture, a fashion show that featured creatively recycled fashions. The show was held at the Clinton Library in Little Rock.
"Curbside Couture was such an amazing opportunity," Harrington said. "It is not an everyday occurrence to display your creative talents at the Clinton Library. I was pleased that Anaeli and Brianny were able to participate. And Dr. Lindström was a good sport as my model. He played the part of the gladiator rather well. The crowd enjoyed his appearance on the runway."
Topics: Student Events