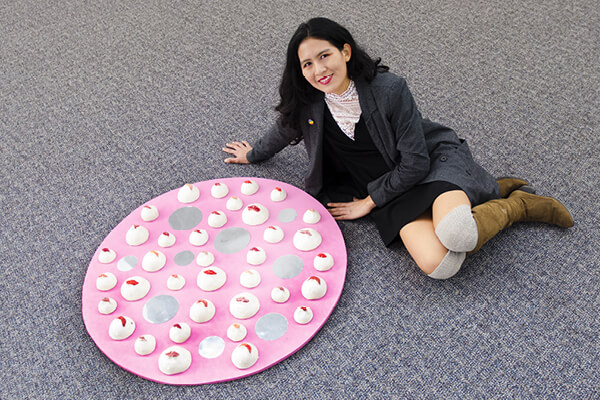 University of the Ozarks student Ana Sofía Camargo will present her Senior Art Exhibit, "Pinkhood," from Nov. 15-26 in the Stephens Gallery.
An opening night ceremony with the artist will be held at 6 p.m. on Nov. 16 in the gallery, which is located in the Walton Fine Arts Center. Camargo will also present an artist talk at 7 p.m. on Nov. 12 in Baldor Auditorium in the Boreham Business Building.
The exhibit and events are open to the public and there is no cost for admission. The exhibit is recommended for mature audiences.
Camargo, an art and strategic communication major from Panama who will graduate in December, said "Pinkhood," examines the association of the color pink with the domestication and sexual objectification of women developed through her own experience as a Latin American woman.
"Each piece is a portrait of the double moral standards that women have to live by," she said.
Camargo said her artwork also depicts passage of time through process by reflecting her intervention with the medium on the object of art.
"In 'Frustraciones,' my bite marks are a violent reductive process that sculpts the vases and is evident in their final product," she said. "I also use repetition of actions, symbols, and/or text to stress the passage of time and the performative quality of my work."
Text is also an important component of Camargo's works.
"I use it to emphasize how this oppression of the female gender has been internalized by popular culture and is reflected in our colloquial language," she said.
Camargo said she perceives "Pinkhood" as a "self-portrait of my own frustration particular of my Latin American roots."
"The ritualistic dialect in which I perform is reminiscent of my Catholic upbringing, the found-text is inspired by my conservative and popular social context, and finally, the general narratives of each artwork are autobiographical to my experience as a woman that has been living through a pink filter."