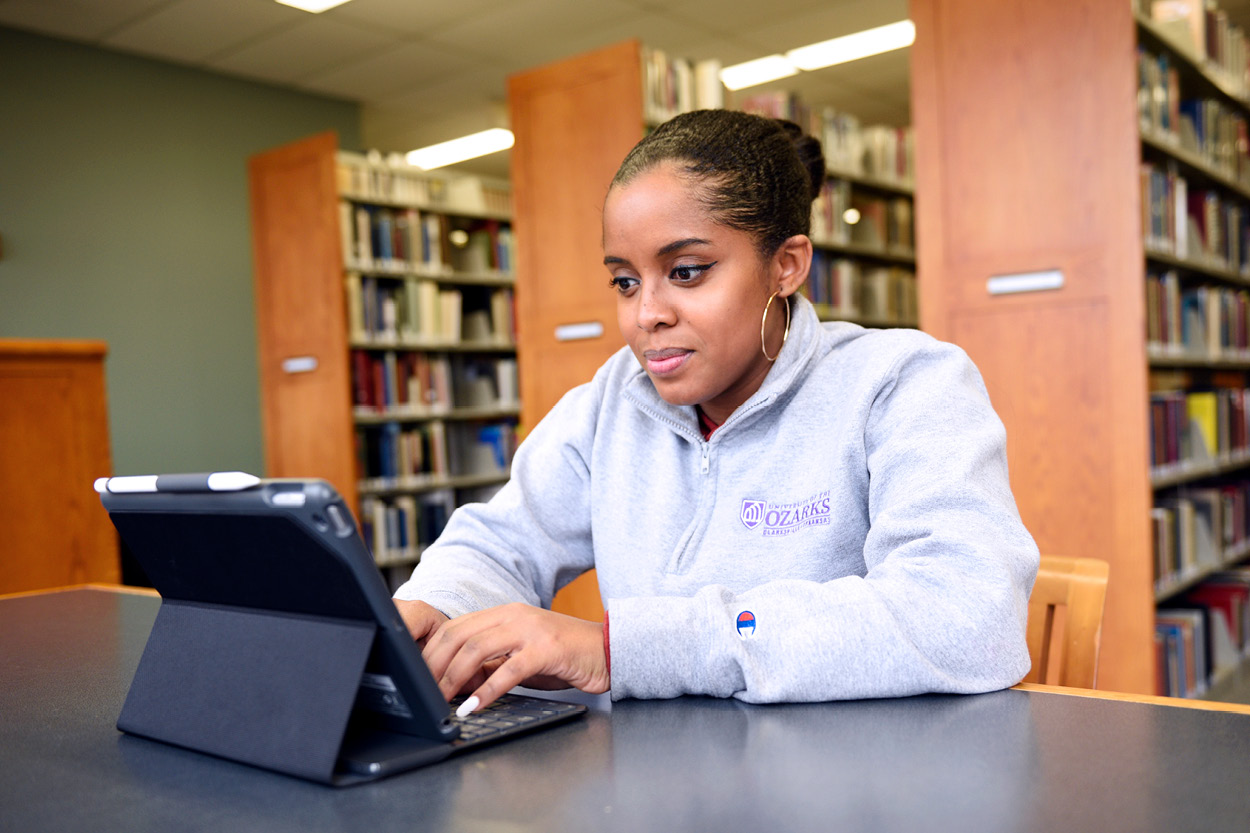 Twenty University of the Ozarks business students are putting their classroom knowledge and experience to work this semester on a cross-cultural project to help the food industry navigate the Covid pandemic.
The Ozarks students, who are in an upper level special studies elective in the Business Administration program, are collaborating with college students from the Thierry Marx College and Keyce Business Academy in Paris. Thierry Marx College is a culinary school and Keyce is a business college. Both are a part of the College de Paris system.
The theme for the six-week collaboration is "Innovation During the Pandemic in the Food Industry, Powered by University of the Ozarks, Thierry Marx College and Keyce Academy."
Several teams made up of a mix of 4-5 students from Ozarks, Thierry Marx and Keyce are using technology to work together on the project. Business professors Dr. Christine Scott, dean of the Division of Social Sciences, and NaLisa Brown, instructor of business, are leading the project for Ozarks.
"Our students are engaged in small cross-cultural groups to develop an innovative project to address the struggles the food industry is facing during the pandemic," Brown said. "The focus is on real-life application of course content, multicultural work and project management."
The Ozarks faculty and staff were happy to take part in the opportunity to help an industry that has been significantly impacted by the pandemic.
"The food industry has seen economic declines and is one of the hardest hit parts of the economy," Scott said. "For the industry to survive and adapt to ever-changing needs, these types of creative collaborations provide opportunities for innovation."
The collaboration was initiated by Dr. Guillaume Finck, a vice president at the College de Paris who taught at Ozarks for one semester in 2017 as part of a faculty exchange partnership with another Paris university. Finck approached U of O President Richard Dunsworth with the idea and then worked with Nicole England, director of Student Life, to work out some of the details. England, a 2018 Ozarks graduate, had Finck for a class when he taught at Ozarks.
"The relationship that we had with Guillarmo definitely helped make this happen," England said. "This type of collaboration can help bring out the creativity and strategic thinking of students on both sides. The groups are designed to combine the academic backgrounds and life experiences from both the Ozarks students and the French students to create innovative and practical business solutions."
Faculty from Ozarks and the College de Paris will present online courses in brand strategy, marketing and innovation, project planning and applied finance. In addition, faculty will act as coaches to assist each participating team. On March 15, students will present their projects to a jury of faculty from both institutions as well as renowned Paris chef Thierry Marx.
"Students will be free to develop creative solutions in many different areas," Brown said. "We want students to be creative. Since their students are more familiar with the food industry, their students will lead the way in regards to the challenges. Our business students will help find practical business solutions."
Elodie Jabouin, a senior business administration major from Port-Au-Prince, Haiti, was excited about the chance to work with students from other countries.
"I remember last semester when Dr. Scott and Mrs. Brown sent the email out about this class, I was so excited," she said. "During a Zoom meeting with both professors, I remember telling them how happy I was about this collaboration between both institutions. As a trilingual, it is an opportunity to help my peers here at Ozarks get the chance to learn a little bit of French and share my culture with students and faculty from both institutions. In addition, I look forward to working with faculty and students from Paris College as this is a great opportunity to exchange culture, ideas and knowledge from our respective fields. It gives me a chance to learn, collaborate and adapt to students from diverse backgrounds." 
Jabouin has also been able to put into use the principles and lessons she has learned in her business classes.
"Anyone who studies business administration and its branches know that we must constantly adapt, analyze and re-evaluate in order to stay unique and gain more competitive advantages," Jabouin said. "Nowadays, with the pandemic, all business owners are looking for ideas to stay in business especially in the food industry. This class is a great opportunity to start thinking about ways that we will do business in the future by being more eco-friendly while also being efficient. It gives us a chance to prepare ourselves to face the issues that any business owner has been facing for the past year and that we may have to face in the future. This class invites us to think outside of the box, as a business owner."
Luis Garcia, a senior business administration major from Clarksville, called it a "learning experience" to work with students from France.
"There are a couple of challenges we faced going into the project," Garcia said. "The most difficult one is the time difference, since they are seven hours ahead of us. We've had to juggle schedules and times to make it work. There is also a language barrier, but fortunately we are paired up with an Ozarks student who speaks French and English.  The bottom line is that we're excited about developing a strategy for restaurants to utilize during times of uncertainty, like now with the pandemic. This strategy can be used globally since we include information from Europe as well as in America."
The students and faculty are using Microsoft Teams to collaborate, communicate and develop the project proposals.
"Microsoft Teams is a robust collaboration tool that allows team members to chat, schedule meetings, make video or audio calls, work on files simultaneously and create tasks, but the most important factor is the ability to translate language," Brown said. "This project would not be possible without this type of technology.  Communicating domestically and internationally during this time relies on technology such as MS Teams."
The members of the team that is declared the winner of the project competition will receive an all-expenses paid trip to the others' home city, meaning a trip to Paris is on the line for Ozarks students.
"My team's ultimate goal is to win the trip," Garcia said. "We as a team feel confident as we work together to develop our strategy for this project. I would be thrilled to have an all expensed paid trip to visit Paris because it is in my bucket list to be able to visit the City of Love."
Topics: About, Academics, Business Administration, COVID-19, Student Stories