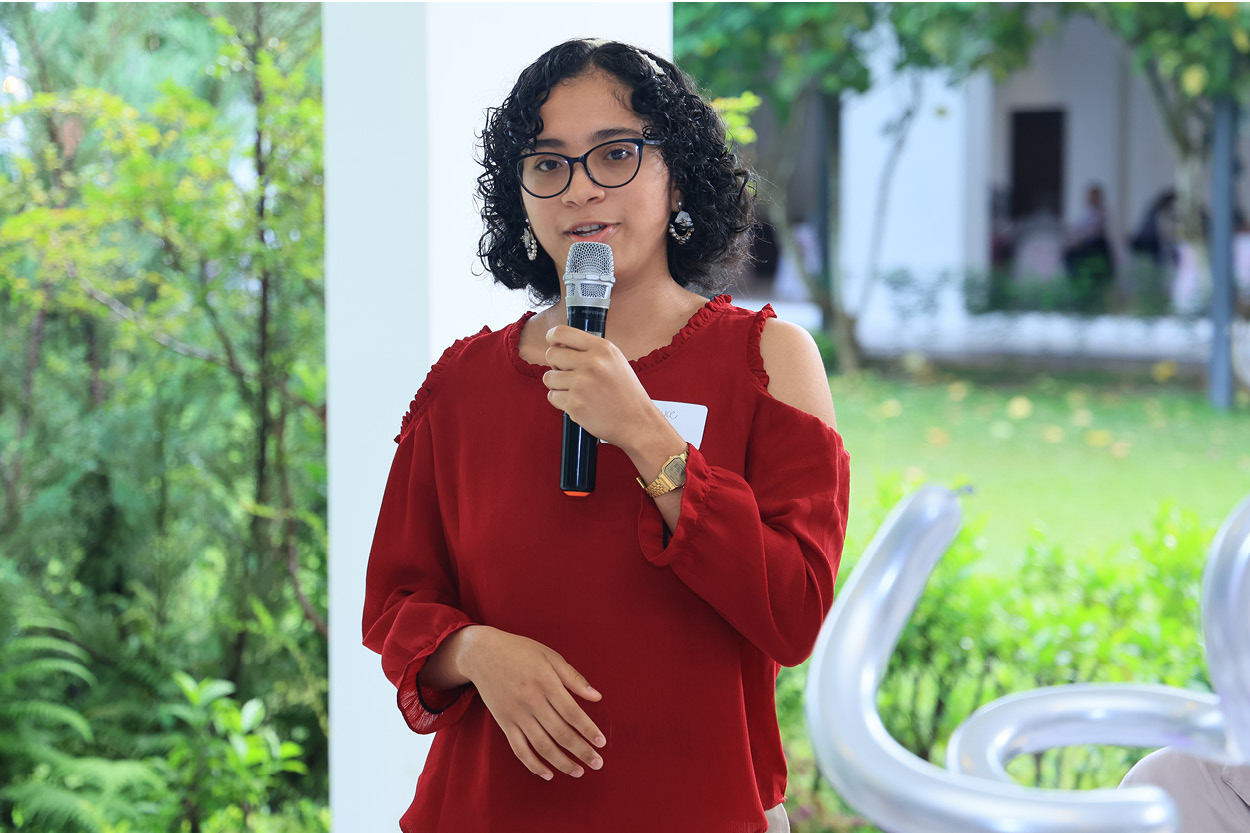 By Odalis Garcia
University of the Ozarks senior Laura Bruce had an unforgettable experience interning in El Salvador this summer.
The double major in environmental studies and sociology from Panama was an energy efficiency intern at the National Administration of Aqueducts and Sewages (ANDA) in El Salvador.
"I had met the former Walton Scholar and now President of ANDA [Ruben Aleman '94] when he came to visit Ozarks," she said. "My advisor then encouraged me to apply."
Bruce researched energy efficiency indicators used in the United States, the European Union, and the Latin American and Caribbean Regions.
"The objective was to put together a database with this information to create visualizations in Tableau," she said. "The presentation of the final dashboard consisted of the compilation of these indicators to inform about the current state of ANDA related to energy efficiency and ways to improve its water pumping systems."
Bruce said this internship gave her the opportunity to immerse herself in the data field and grow personally and professionally.
"I am planning on getting certified in other data visualization tools," she said.
Bruce also interned with seven other students from Ozarks – Alisone Guzman, Willian Paiz, Josué Maldonando, Juliana Busto, Isaías Ortiz, Fernanda Argueta, and Sarah Bureau
"My internship experience has been the perfect combination/equilibrium of learning and fun; I have met awesome people and found tools that will help me in future endeavors," she said.
Bruce also had a remarkable time exploring El Salvador and making connections.
"I had a very outgoing roommate who was from El Salvador," she said. "She helped me improve my social skills and feel more confident when reaching out to people. It was also nice being able to go on walks around the city with someone who was familiar with the area."
She also visited the small towns of Nahuizalco and Ataco, sang karaoke with locals and interns, hiked the tallest volcano in El Salvador, and visited the National Palace and National Theatre.
"I love El Salvador and hope to come back either as a tourist or for a job," she said.
Bruce plans to work in a public or private environmental organization, learn another language, and obtain a master's degree related to conservation, climate, or ocean science after college.
"One thing I learned was to not let stereotypes and fear stop you from taking on new experiences and challenges," she said.
Topics: About, Academics, Environmental Studies, Internships, Sociology