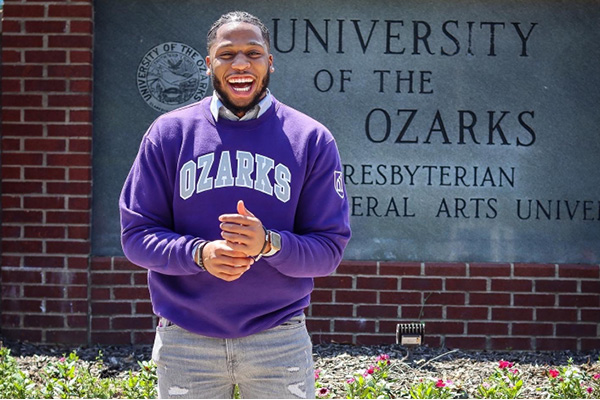 As University of the Ozarks graduate Aaron Brown of The Bahamas walked across the stage Saturday to receive his diploma, he thought about his beloved late professor, mentor and advisor, Dr. Stewart Dippel.
"When I attended last year's graduation, Dr. Dippel kept telling me while we were taking pictures that next year was going to be my time," said Brown, who graduated with a bachelor's of art degree in political science. "While I was walking across the stage, the only thing I could think about was Dr. Dippel telling me 'This Is my time.'"
Dippel, the long-time political science professor at Ozarks who passed away unexpectedly in January, taught Brown in many of his political science courses and also was his advisor for three years.  Brown said it was Dippel who affirmed and inspired his desire to pursue a career in law.
"He was such a thought-provoking and loving professor," Brown said. "In his absence, I still reminisce on the benevolence of Doc, and the loving gestures he offered. As simple as ensuring that everyone in the class had a mug filled with coffee was one of Dr. Dippel's major priorities."
One of the first classes that Brown took with Dippel was Criminal Justice during his freshman year.
"I remember Dr. Dippel looking at me and saying,  'Aaron, the way someone interprets the law can either circumstantially equip them or disarm them,'" Brown said. "That made a lasting impression on me. Ever since then, I've devoted my time trying to make Dr. Dippel and my family proud by attending law school, where I will be using the law to equip myself. I decided during that class that I wanted to be a criminal defendant. My dream job is to be able to vacillate throughout the Caribbean defending those wrongfully accused in criminal cases."
Brown said one of his most memorable interactions with Dippel was when the professor asked him about one of his favorite side hustles, cutting hair.
"Dr. Dippel asked me, 'Where did you learn how to cut hair and did you get your barber license?'" Brown said. "I replied, 'Yes sir, I actually got my license in the Bahamas.' He then said, 'That means it's invalid for Arkansas.' I replied and said. 'You got your degree in Ohio; does the same rule apply?' He looked at me, laughed and said, "Well played.'"
Brown said that when he learned of Dippel's passing, he became "very perplexed and distraught."
"Immediately after, Chaplain Jeremy [Wilhelmi] personally made it his priority to call and check on me," Brown said. "He reminded me that the only way that I can fully honor Dr. Dippel is by chasing my dreams. That prompted me to apply to law schools."
Brown has been accepted into all three law schools he applied to, all in the United Kingdom: City Law School at the University of London; Kent University and University of Sussex.  He said he plans to decide on which one he will attend later this month.
"The reason I chose schools in the UK is because I want to be able to practice law at home in The Bahamas," Brown said. "The law schools in the UK are jurisdictionally in alignment with the practices of law in The Bahamas."
Brown is the first in his immediate family to graduate from college, something he takes pride in.
"On Saturday, seeing my parents and two little brothers watch me walk across the stage was very symbolic and now one of my younger brothers is in the process of applying to colleges," Brown said. "I'm very grateful that my parents financially supported my college journey despite them never attending."
Topics: About, Political Science