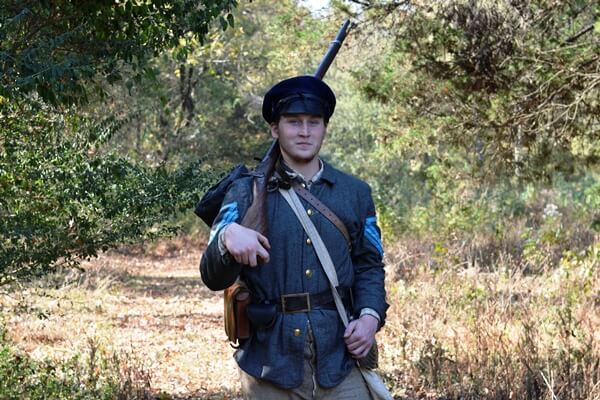 University of the Ozarks freshman John Bowen not only loves history, he lives history.
For the past five years, Bowen, a history major from Hartman, Ark., has taken part in Civil War reenactments several times a year throughout the region as part of the 22nd Arkansas Volunteer Infantry unit of the Confederate Army. In mid-October he participated in a weekend reenactment of a little known Johnson County skirmish in 1865 called the Battle of Little Piney.
"I feel like I'm playing a small part in helping bring these types of lost history moments back to life," said Bowen, a 2016 graduate of Clarksville High School. "These reenactments help us better understand the conditions and environment that our forefathers and ancestors fought and lived in. The better we understand our history, the better we understand ourselves."
Bowen was recently promoted within his company to quartermaster sergeant, which means he is responsible for keeping up with supplies and gear and for outfitting the men in his unit.
"it can be a lot of responsibility and can be time-consuming but it gives me a new perspective on how these companies were supplied and how they were dressed," he said. "There were a lot of challenges in getting these companies supplied during those times."
John Bowen, a freshman history major from Hartman, Ark., has been doing Civil War reenactments since he was a freshman in high school.
Bowen first got involved in reenactments when he was a freshman in high school as part of a family endeavor. The experiences quickly fueled his passion for history.
"We travelled a lot as a family while I was growing up and we would stop at old forts and battlefields and other historical places and I never really paid much attention to those things," he said. "But after getting into reenactments, those things started meaning more to me. It definitely got me a lot more interested in history and from there it just kept growing."
Like many Civil War reenactors, he had what he calls his "golden moment" during one of his first reenactments.
"For a brief moment it's no longer 2016; you're actually transported back to 1862 and you literally feel like you are there on the battlefield," Bowen said. "If you're someone who loves history as much as I do, to have the ability to be a part of historical events in a sense is a great experience."
An aspiring college history professor, Bowen said the element he enjoys most about being a reenactor is the educational aspect.
"When you're in uniform and talking to people, especially children, they tend to pay much more attention and you can see their eyes light up," Bowen said. "I love to talk to children about Civil War history and show them the uniforms and the rifles and the other gear. All of a sudden they are in awe and for a moment they aren't interested in video games or watching TV. It might actually inspire them to go to the library and read a book about a historical event."
"It's sad when I see so many people, even college students, who can't tell you who fought in the Civil War and why the war was fought. If I can do my small part in helping to educate people about the importance of history, it's all worth it. That's what drives me."
Bowen said he had planned to attend college out-of-state until his father talked him into visiting the hometown university.
"As soon as I visited the Ozarks campus and met with the professors and then had the provost stop me on the sidewalk during my visit and ask about me and my interests, I know this was the college for me," Bowen said. "What I love about Ozarks is that there is so much diversity of ideas and opinions and viewpoints, yet everybody is accepting and respectful of one another. I love being exposed to those different ideas and viewpoints because as historians that's important to us. You may not agree with somebody's ideas or opinions, but it's important for us to understand as much as we can about how other people think and view the world. The important thing is can you, at the end of the day, sit down together and have a cup of coffee and discuss those differences. That's the culture at Ozarks."
Topics: History