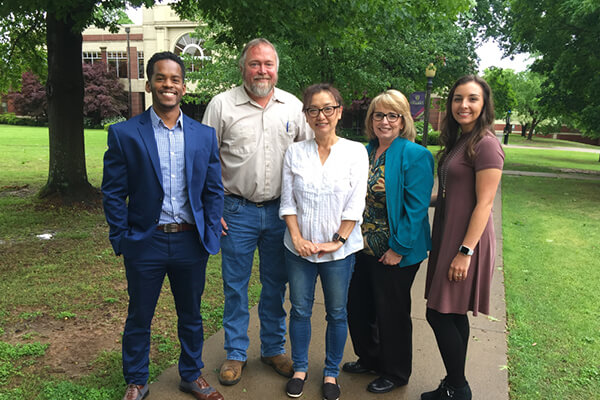 The University of the Ozarks Board of Trustees presented its annual faculty and staff awards during the 2019 Trustees Awards Banquet, held April 26 in the Rogers Conference Center.
Among the recipients for 2019 were (pictured, from left) Dr. Warren Sconiers, assistant professor of biology; Donny Frost, work control manager; Vinnie Tran, graphic design, photography and video coordinator; Pam Terry, assistant professor of practice of education and director of early career professional educators; and Amy Lloyd, director of marketing.
Sconiers and Terry each received the Richard and Katherene Bagwell Outstanding Faculty Award.
Tran was honored with the Arnold G. Sims Outstanding Staff Award and Lloyd earned the Alvin C. Broyles Outstanding Staff Award.
Frost was presented with the 2019 Dr. Rick and Sheree Niece President's Above and Beyond Outstanding Service Award.
Several other faculty and staff members also received service awards for employment milestones, including Raeann Meier for 10 years; Blaise Andrepont, Ramona Cogan, Debbie Eldridge, Hunter Jackson, Jeff Scaccia and Jesse Weiss for 15 years; Stacy Key, Suzannah Mickan, Dr. Steve Oatis and Tran for 20 years; and Julia Frost and Tom Willis for 30 years.
The trustees also honored three employees who announced their retirements this year: Wilma Harris, registrar; Frost, director of the Jones Learning Center; and Eldridge, office manager for the Division of Humanities & Fine Arts.
Topics: About