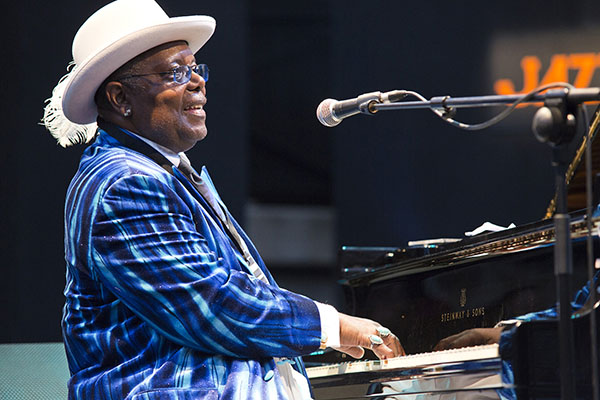 Veteran blues singer and boogie piano player Kenny "Blues Boss" Wayne will present a concert at University of the Ozarks on Wednesday, April 4, as part of the University's Walton Arts & Ideas Series.
The concert will begin at 7 p.m. in the Walton Fine Arts Center. The public is invited to attend and there is no cost for admission.
Hailed as "an artist bringing the piano back to the front ranks of contemporary blues," the multiple-award winning blues, boogie-woogie and jazz pianist has been performing concerts for more than 50 years. Born in Spokane, Wash., raised in New Orleans and now based in British Columbia, Wayne has built a stellar reputation within Canada and abroad for his lively attire and energetic concert performances.
Music journalist Jeff Johnson, writing in the Chicago Sun-Times, stated, "There's no boogie-woogie-blues piano man out there today who pounds the 88s with the conviction of Kenny 'Blues Boss' Wayne."
Jim Hynes of Elmore Magazine said Wayne is "like a modern day version of Fats Domino, with his colorful suits, big smile piano chops. This cat can pound those keys as evidenced by Living Blues magazine awarding him the 2015 Most Outstanding Musician on keyboards. As the title suggests, this is joyous music that puts a contemporary spin on those classic styles that now go back sixty or seventy years."
Wayne released his first solo album, "Alive & Loose," which featured Shuggie Otis, on Andy Griggs' Real Blues Records in 1995. It marked the start of Wayne's blues journey and was followed by four albums for Canadian label Electro-Fi Records: "88th & Jump Street," JUNO Award winning "Let It Loose," "Can't Stop Now" and the live recording "Piano-Rama." Wayne also recorded in "Paris" for Isabel Records at the same studio that Memphis Slim frequently recorded.
Since joining Stony Plain Records in 2011, Wayne has released "An Old Rock On A Roll," which earned him a Blues Foundation nomination for the Pinetop Perkins Piano Award, and "Rollin' with the Blues Boss." The 2016 release, "Jumpin' and Boppin,'" was his third recording on Stony Plain Records.
Topics: Community Events