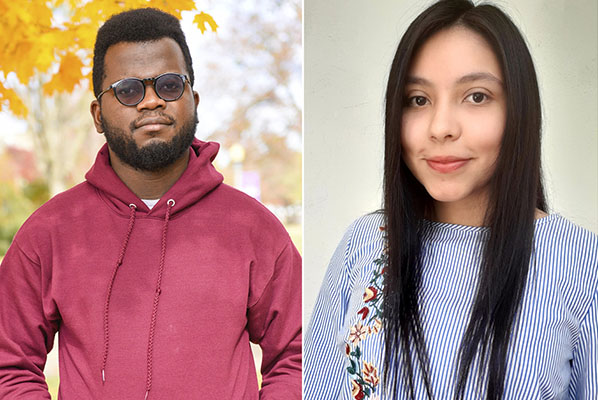 A pair of University of the Ozarks biology majors had the unique opportunity to present the results of their research projects on new species of soil algae at the Arkansas Idea Network for Biomedical Research Excellence (INBRE) Conference, held in a virtual format in early November.
Sara Ambrocio Paque, a junior biology major from Cobán, Guatemala, gave a talk titled, "New Species of the Green Algal Genus Coelastrella from Warren Prairie Natural Area in Southeast Arkansas."  Negee Thermozier, a senior biology major from Léogâne, Haiti, presented a talk titled, "A New Soil Species of the Green Algal Genus Diplosphaera Bialosuknia from Warren Prairie Natural Area in southeast Arkansas."
The students were mentored by U of O professors Dr. Karen Fawley and Dr. Marvin Fawley. The married botanists have taught at Ozarks since 2018 and have been conducting research on algae communities for nearly three decades. The research was supported by Arkansas INBRE and the National Science Foundation.
Karen Fawley said the students' research was part of a larger project on the soil algae of the unusual soil "slicks" in Warren Prairie Natural Area in Bradley and Drew counties in cooperation with state botanist Brent Baker at the Arkansas Natural Heritage Commission. 
"Both students were initially given a single unidentified algal strain from WPNA as part of a class project in Genes and Genomics," Fawley said. "Using morphological and DNA sequencing techniques, and after extensive reviews of literature, the students eventually showed that they had actually discovered new species of green algae. The new species, Coelastrella salsodica and Diplosphaera salinensis, will be proposed in two separate forthcoming research papers with the students as first authors."
Paque, who plans to pursue a career as a research scientist in either oncology or cardiovascular illness, said the experience of working on the research project will be beneficial in reaching her career goals.
"Working jointly with the Fawleys has allowed me to discover my research interest and given me an invaluable experience that will benefit my career," Paque said. "I had the opportunity to work for two years with algal community species and it was a wonderful experience because I worked with molecular techniques and taxonomy methods. I was able to identify each green algal strain and propose a name. Presenting at the INBRE conference inspired me to continue with my independent research and I am looking forward to writing a manuscript for publication."
Thermozier, who plans to attend medical school after graduation, said it was a great opportunity to be able to present his research at an academic conference.
"I really feel great about this research experience, especially about the incredible results that we are getting," he said. "The INBRE Conference was a really great opportunity for me to expose my work and also it was an important step forward to the professional science world. As my career goals, I would like to be a surgeon and also I would love to do research in the biomedical field. This research really helped me improve my knowledge and my laboratory skills as well and it gave me an idea about what the future in the biological research field looks like."
Paque said the Fawleys passion for science has inspired her.
"Their passion for science has no limits," she said. "We spend a lot of time together in the laboratory, and they were patient and always showed interest in each student. I just saw my level of curiosity and critical thought grow each time I was in the lab. Even during the pandemic, we had fun having online classes. We learn different ways to communicate to be as efficient as face-to-face classes."