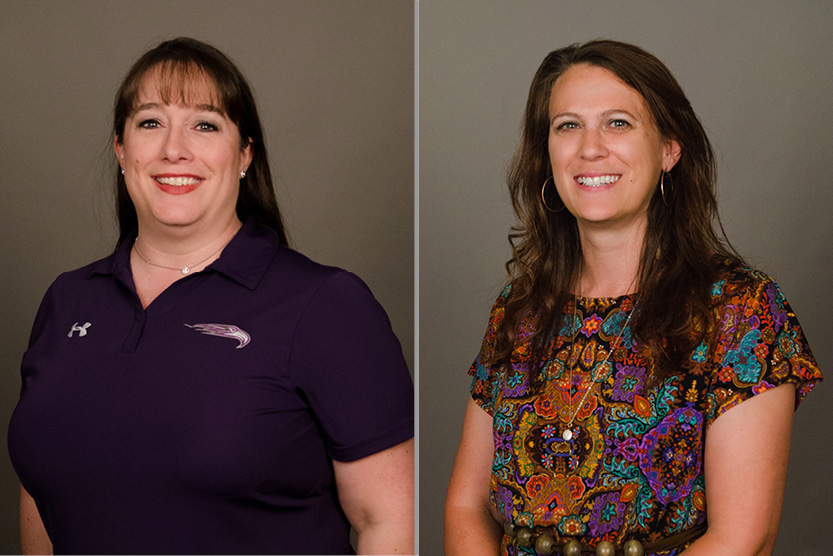 Jessica Baumgartner, executive suite office assistant, and Lisa Thomas, athletic department office manager, have been named the recipients of the University of the Ozarks' outstanding staff awards for 2020-21, it was announced Monday.
Both Baumgartner (pictured, right) and Thomas were named the recipients of the Arnie G. Sims Outstanding Staff Award. The award was announced to the campus community during Monday morning's President's Standup meeting that was held via Zoom.
Baumgartner joined Ozarks in February of 2016 as the office manager for the Division of Business, Communication and Education. She transitioned to the executive suite in July of 2019.
In her nomination, a colleague wrote that Baumgartner, "exemplifies leadership and performs her job at a very high level." Another college wrote that she, "works exceptionally well with all constituents on campus, thus fostering a real sense of community wherever she is. Her attitude and personality set a great example for both students and staff on how to live out the mission of the institution."
Thomas joined Ozarks in 2006 as office manager for the Education Division and moved to the athletic department in September of 2019.
In her nomination, a colleague wrote that Thomas "has gone above and beyond this Spring to make sure that our athletic events are safe and staffed.  With the addition of responsibilities when it comes to the admittance to an event, she has stepped up and worked check-in tables, mitigated crowd issues and gracefully but firmly stuck to the rules and regulations that the University established to keep our community safe … She gladly steps into anything that is asked or needed of her without hesitation."
Another colleague wrote of Thomas: "Lisa is a servant leader. She serves others consistently in many roles. I am truly amazed at her ability to this selflessly on a daily basis … The entire department knows they can call on Lisa for help, even if it is after hours, because she cares. I think the entire athletic department would whole-heatedly agree that she is the glue that keeps us all together."
Topics: About