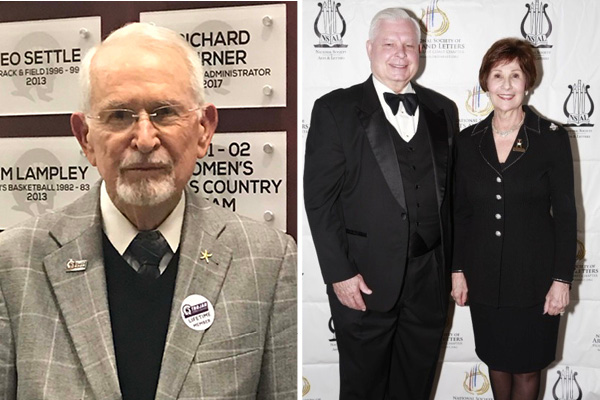 The University of the Ozarks will present its prestigious Alumni Legacy Award to Bill Ballard '56, and Cleveland "Cleve" '63 and Barbara (Haynes) Branscum '63 during the Ozarks Awards Ceremony.
The ceremony is scheduled for 6 p.m. on Friday, April 8, in the Rogers Conference Center. The ceremony is part of Homecoming Week.
The Legacy Award is given to honor those alumni who have given unselfishly of their resources to support Ozarks and her mission during their lifetime. The award recipients are chosen by the University's Office of Advancement and Alumni Engagement.
A resident of Benton, Ark., Ballard (pictured, left) is a long-time supporter of Ozarks and a previous member of the Alumni Association Board of Directors. A retired basketball coach, educator and administrator, Ballard and his family established The Bill and Juanita Ballard Scholarship Endowment in 2015 in memory of his wife of 38 years. He also created the First Presbyterian Church of Benton, Arkansas, Scholarship Award through the Texas Presbyterian Foundation. Ballard served numerous years on the alumni board, including a tenure as association president. A former baseball and basketball standout at Ozarks, he coached basketball at his alma mater before helping establish the basketball program at UA-Little Rock. He was inducted into the U of O Sports Hall of Fame in 2019.   
Cleve and Barbara Branscum of Belleair, Fla., have been supporters of the Ozarks Annual Fund for more than 30 years. The two met as freshmen at Ozarks and were married in August prior to their junior years. They celebrated their 60th wedding anniversary last August. Cleve was a basketball star and Barbara a cheerleader at Ozarks and they were named Valentine king and queen in 1962. After graduation, Cleve went on to coach basketball at several universities before going into private business and real estate investments. Barbara taught English for many years in Arkansas and Florida and also became active in arts and lineage societies. Cleve said Ozarks "inspired two youngsters to lead rewarding, fulfilling and meaningful lives."