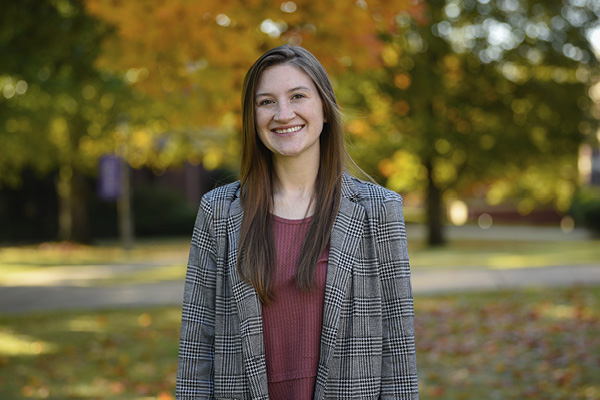 Casie Ballard, a 2021 University of the Ozarks graduate, has been named the new residence hall director for MacLean Hall. She began her new job on Nov. 1.
Originally from Cabot, Ark., Ballard graduated with degrees in business administration and English and a minor in psychology. She earned Summa Cum Laude honors and also served as a student ambassador during her time at Ozarks.
"I graduated from the Ozarks in May and didn't get far before I realized I wanted to give back to this community and the students still attending the University," Ballard said. "That is why I am here. I want to make the student experience of living on campus a great one. I am excited to take this position and build this community up with the ideas that students have for what they want to see happen in the residence halls."
Ballard said her primary goal is to help students succeed.
"If they ever need anything, my office is on the first floor of MacLean Hall, right outside of the ballroom, and they can come see me at any time," she said. "Being a recent graduate, I have the privilege of knowing most students already, but I strongly encourage students that might not know me to introduce themselves to me if they see me out and about on campus."
Ballard and her husband, Kaleb, have one son, Timothy. Her hobbies include, photography, going to the gym, watching sports and being with her family.
Topics: About, Alumni, Student Life