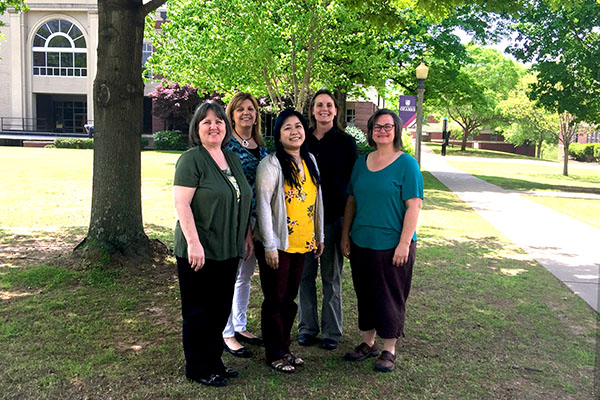 The University of the Ozarks' Board of Trustees presented its annual faculty and staff awards during the 2018 Trustees Awards Banquet, held April 27 in the Rogers Conference Center.
Among the recipients for 2018 were (pictured, from left) Patti Schuh, enrollment data manager; Debbie Siebenmorgen, accountant; Tammy Harrington, professor of art; Susan Edens, assistant professor of practice for communication; and Lisa Gruben-Inness, office manager for the Jones Learning Center.
Harrington and Edens each received the Richard and Katherene Bagwell Outstanding Faculty Award. Gruben-Inness was honored with the Arnold G. Sims Outstanding Staff Award and Siebenmorgen earned the Alvin C. Broyles Outstanding Staff Award. Schuh was presented the 2018 Dr. Rick and Sheree Niece President's Above and Beyond Outstanding Service Award.
Several other faculty and staff members also received service awards, including Heather Dickerson, Gruben-Inness, Dr. Joel Hagaman, Dr. Brett Stone, Greg Stone, Marilyn Harris and Susan McKee for 10 years of service; Monica Frizzell, Dr. Deborah Sisson, Eddie Wood and Glenda Wood for 15 years; Felecia Atkinson, Lou Chapman, Edens and Kimberly Spicer for 20 years; Dawn Schull Dvoracek for 25 years; and Deborah Mooney and Stuart Stelzer for 35 years.
The trustees also recognized five employees who announced their retirements this year: Marian Askins, office manager for the Mathematics and Sciences Division; Dr. Rickey Casey, professor of management and former director of the Walton International Scholarship program; Lou Chapman, academic program coordinator in the JLC; John Hodge, maintenance technician; and Carl Ramsey, head women's basketball coach.
Topics: About, Art, Communication Studies, Community Events, JLC, Traditions