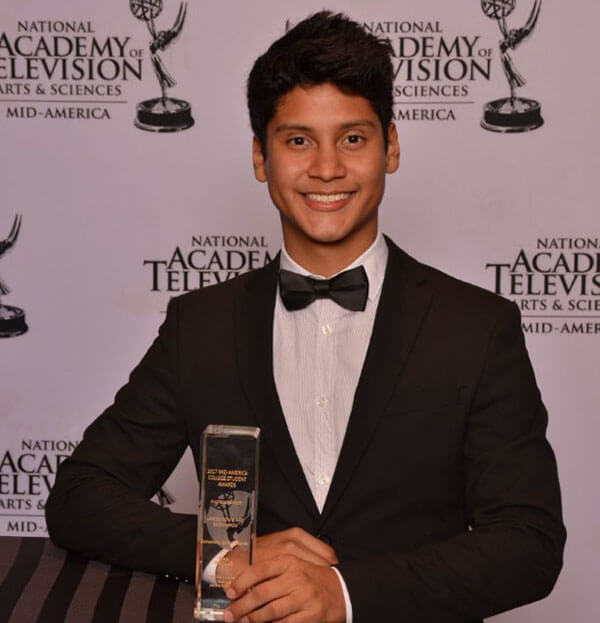 University of the Ozarks senior Ivan Bustillo's final semester has been quite memorable.
The radio-television-video (RTV) major from El Salvador will cap a notable last semester when he receives his diploma on Dec. 16, during the Fall 2017 Commencement ceremony.
Earlier in the semester, Bustillo won the prestigious Student Pillar of Excellence Award from the National Academy of Television Arts & Sciences Mid-America chapter for his short film, "Upside Down and Backwards."  In mid-November, Bustillo returned to El Salvador, where he served as the host for the BT7 Digital Festival, one of Latin America's largest gatherings of digital innovators and policymakers.
"It's really been a crazy semester," Bustillo said. "It seems like everything is coming together for me at the right time."
Bustillo won his Student Pillar of Excellence Award in the category of photography for his film about local artist David Rackley. whose technique involves taking black and white photography and painting images on them with oils.
"It's a fascinating process and it conveyed very well on film," Bustillo said. "Just the unique technique of the artist inspired me to try some different things as I was filming it. I really wanted to capture how unique and different the process was. I was happy with the final product, but I was still very surprised when I found out I had won. It's a very competitive award and there were a lot of great entries."
Known as Little Viejo in his home country, Bustillo is a popular YouTuber and blogger in Central America. He currently has more than 2 million followers combined on all of his social media channels. His videos consist of funny monologues about any topic, primarily relating to youth. He is very religious and often gives advice based on the Bible.
"I believe that my video blogs are popular because of my sense of humor and because of the Christian values that I constantly share through my content," Bustillo said. "I always try to entertain people, but I also leave something useful and positive that my viewers can take from it. Most of my audience members are teens, and I strongly believe that God has given me influence to show His love and teach His word. Nevertheless, I always try to deliver high quality content in every sense. Script, audio, video, acting and publishing are factors that I carefully work on every single time."
Bustillo's prowess as a blogger led him to being selected as the host for the BT7 Digital Festival.
"Basically, I was in charge of the opening, introducing the speakers and setting the mood for the event," Bustillo said. "It was a great experience."
Following graduation, Bustillo plans to start his own content creation business that is focused on digital and mixed media. He credited his professors at U of O for helping him hone and advance his skills as a digital storyteller.
"Ozarks was able to take what was an interest and help turn it into a career," Bustillo said. "I've been able to get great hands-on experience in the RTV program and I've had the opportunity to go to some great conferences and workshops away from campus. For a young man from Central America to come here and get a great education both inside the classroom and outside the classroom is a wonderful blessing."
Topics: Academics, Communication Studies