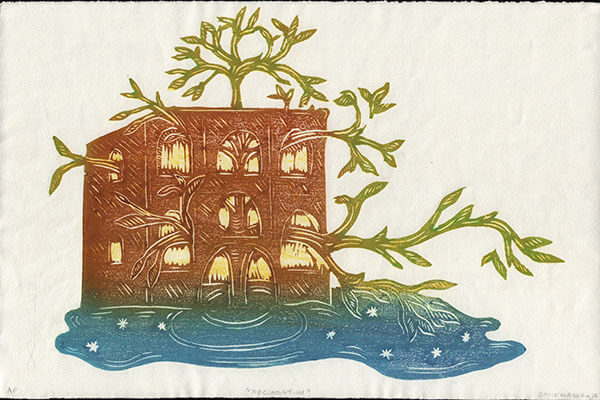 Arkansas printmaker David Warren will present his exhibit, "Reclamation," at the University of the Ozarks' Stephens Gallery from Jan, 16 to Feb. 22, 2019, as part of the University's Artist of the Month Series.
There will be a reception to meet the artist from 5-6 p.m. on Wednesday, Jan. 30, in the gallery, which is located in the Walton Fine Arts Center. The gallery is open Monday through Friday from 9 a.m. to 4 p.m. There is no cost for admission.
A Little Rock resident, Warren has taught printmaking at Henderson State University in Arkadelphia since 2008.
Warren said "Reclamation" is a series of handmade prints that feature his mythology.
"The images display a variety of compositions that feature archetypes inspired by nature and industrialization," he said. "The exhibit includes etchings, lithographs, and relief printmaking techniques."
His recent works consist of relief prints created during a recent art residency in Japan.
"Mokuhanga is the Japanese woodblock technique used by artists such as Hokusai and Hiroshige during the Edo Period," he said, "Reclamation was inspired by my renewed interest in water based relief printing and research in sustainable materials."
Born in Memphis, Warren received his undergraduate degree in art from the University of Arkansas at Little Rock and his MFA in printmaking from the University of Arkansas in Fayetteville.
His work has been shown in Tokyo; the Arkansas Arts Center Delta Exhibit; Delta National Small Prints at Arkansas State University; the Arkansas Arts Council Travelling Exhibit Small Works on Paper; the Arts Center of the Ozarks in Springdale, Ark.; and the Deep South Print Exhibition at the Hammond Arts Center in Hammond, La.
Topics: About, Art, Community Events