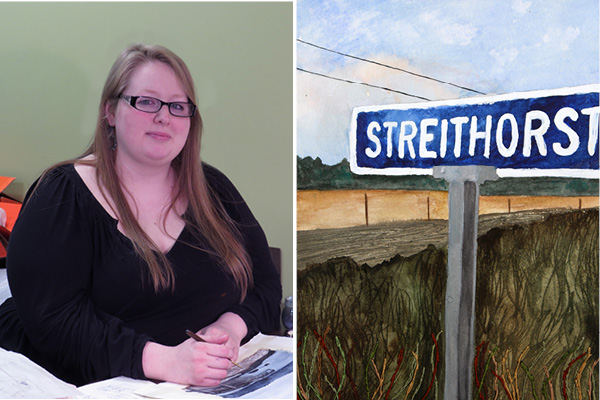 Alaura Streithorst will present her Senior Art Exhibit, "Euphoric Moments," April 5-12 in the University of the Ozarks' Stephens Gallery.
There will be an artist talk at 6 p.m. on Thursday, April 7, in Baldor Auditorium and a reception to meet the artist at 4 p.m. on April 8 in the gallery, located in the Walton Fine Arts Center.
Streithorst, a senior art major from Clarksville who is scheduled to graduate in May, said much of her artwork features landscapes, especially spaces next to water sources.
"The quality of light, as it hits the water, enhances textures and color," she said. "In addition, the geometrical of architectural structures contrast with the organic forms of the landscapes."
She added that her small-scale paintings consist of landscapes from various areas in Arkansas that hold special memories for her.
"Arkansas is my home and I want the viewer to experience the beauty from these unique spaces," she said. "My work is expressive interpretation and captures the environment through my eyes. My paintings all focus on the light and in the way it can change the perspective like dawn and dusk. The idea is having nature, which is unique, but then to have the man-made elements, which do not change like the seasons, so they remain the same. The contrast of nature and man-made make my pieces stand out more to viewers because it has an element that never changes while the sky, water, grass, trees, etc. are constantly changing."
Streithorst said her piece, "Ikigai," is of her front yard, but the focus is the sign with her last name on it.
"The sign becomes a figure standing in the landscape," she said. "The addition of embroidery adds three dimensional texture in the grass and transforms the surface in a more expressive way. I use light colors to show how blue the sky is but also how the sun is reflecting the clouds. Which brings me back to my pieces and how they show the different forms light can take and the different textures from the embroidery, to showcase my landscape paintings with man-made elements. "
Streithorst called Arkansas artist Rachel Trusty, who presented an exhibit at Ozarks in 2021, a major influence.
"She demonstrated embroidery techniques, and I incorporated it into my watercolor pieces, allowing my watercolor paintings to have a 3-dimensional aspect," she said. "Another big influencer is Claude Monet, a French painter known for his founding of impressionist painting. He painted nature as he perceived it which was unheard of at this time. His paintings are also focused on light and how it changes. I lived in Arkansas my entire life and I am proud to call it my home. "