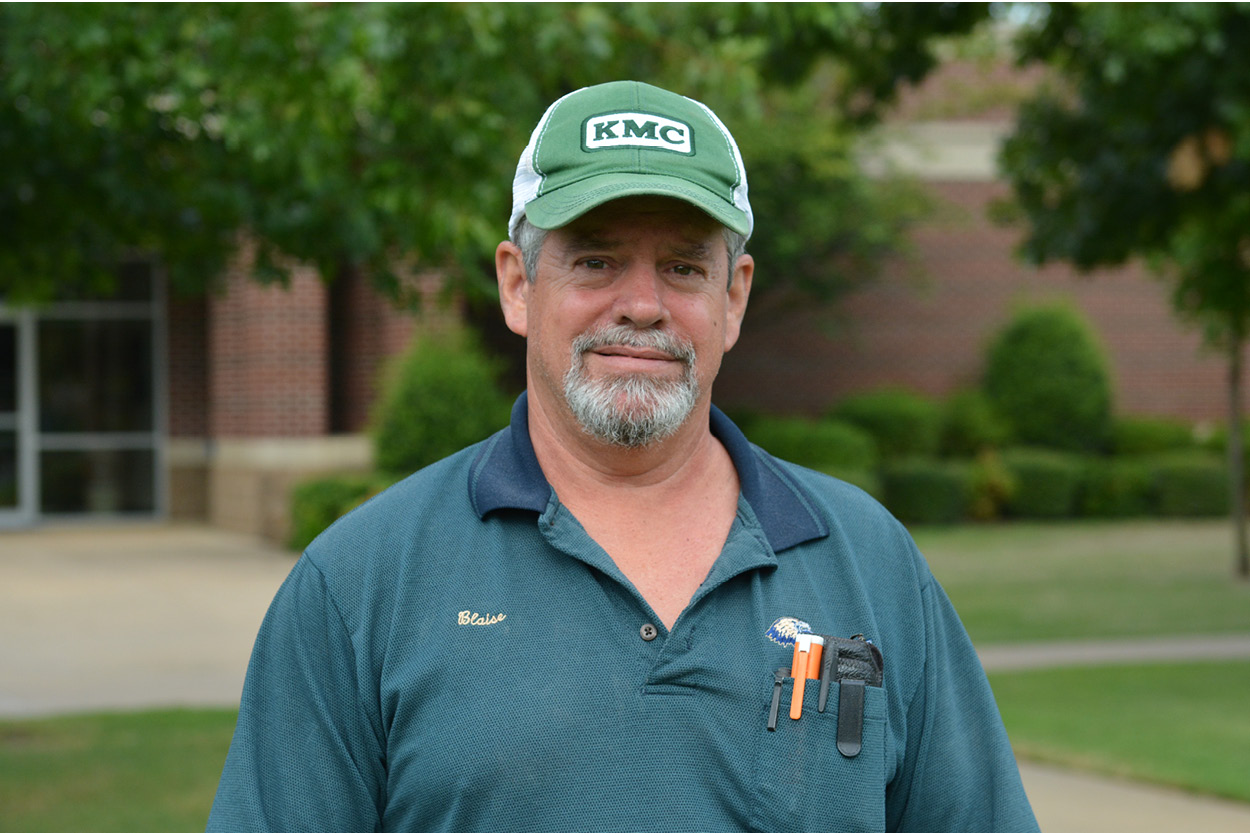 Blaise Andrepont described his almost 20 years of working in the University of the Ozarks' physical plant as daily on-the-job training.
"Working with grounds and maintenance gave me direct contact to a group of people who had a great field of knowledge in a wide variety of areas," Andrepont said. "They had acquired that knowledge and skill from Ozarks and from other places and they were open to sharing that knowledge with me. You may say it was on-the-job training every day. The information and knowledge that was shared among the people in the physical plant is a big part of what made me for years feel like a part of the Ozarks family."
Andrepont is retiring from Ozarks at the end of June, capping a career at Ozarks that began in 2003.
Donny Frost, director of the physical plant, credited Andrepont for helping him when he started at Ozarks.
"Blaise took me under his wing and helped me tremendously when I first started, and he's done the same thing with a lot of people," Frost said. "He's a great worker and someone you can depend on to get the job done. He's a life-long friend and a brother."
Andrepont said his colleagues is what he'll miss most about Ozarks.
"The comradeship with the people at Ozarks is what makes it special," he said. "I also appreciate the freedom to be given a job to do and to perform it without someone looking over your shoulder to see if you are doing correctly. Ozarks allowed me to work in an environment that fostered trust and loyalty."
Andrepont said he was happy when the physical plant returned under University management last year after several years of being under private contract.
"When Ozarks decided to make us employees of the University again, I almost jumped with joy. It felt like we were part of a big family again," he said. "The people at Ozarks have always been openly friendly and very supportive. I was extremely happy to be an Ozarks employee again."
Andrepont said his wife, Judy, an RN nurse at Johnson Regional Medical Center, "has been my biggest supporter throughout my time at Ozarks." They have two sons, David and Anthony.
He said he is looking forward to retirement and plans to spend time working on his farm as well as fishing, hunting and visiting family outside the state. He also plans on "building things out of wood and utilizing some of the skills that I learned from the people at Ozarks."
"Most of all, I plan to stay very close to my God," he said. "Jesus has a plan for me in this life transition and I plan to let Him lead."
Topics: About