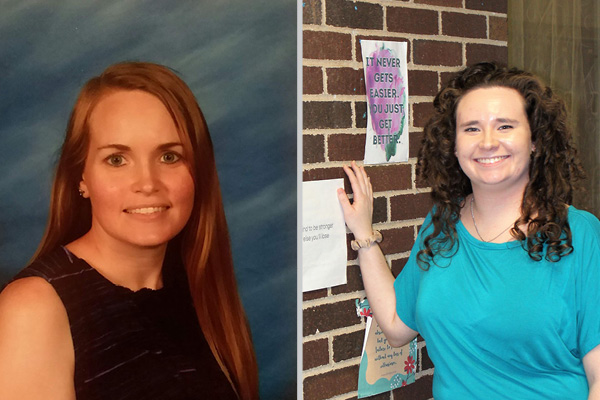 A pair of University of the Ozarks alumna who teach mathematics in the Arkansas River Valley were recently presented with a prestigious regional honor by the Mathematics Association of America (MAA).
Kimberly (Corley) Griffin '12 (pictured left), a teacher at Scranton High School, was named the sectional MAA 7-12 Mathematics Teacher of the Year and Maranda (Watson) Pfeiffer '18, a seventh grade teacher at Paris Middle School, was named the sectional MAA Middle School Math Teacher of the Year.
The two were named teachers of the year in the Arkansas-Oklahoma section of the MAA and were presented the awards during the organization's annual spring student competition, held virtually last week. Their awards were presented by Dr. Javier Taylor, an assistant professor of mathematics at Ozarks and a member of the MAA sectional committee.
Griffin, who has been at Scranton since 2014, teaches algebra I, geometry, algebra II, pre-calculus, and transitional math ready. She has also taught AP calculus AB for many years.
When she first received the call from Taylor, she thought it was an April Fool's joke.
"I didn't really believe it," Griffin said. "After discovering that it was actually true, I felt humbled to receive such an award. I feel like I need to work extra hard at what I do to be sure that I am worthy of the award."
Griffin said the thing she enjoys the most about her job is having a positive impact on youth.
"I love to watch my students work hard and be successful at all things, not only mathematics," she said. "It is so rewarding to be able to work with a student who is struggling and help him or her reach his or her goals."
She credited Ozarks for helping prepare her for a career in teaching.
"U of O helped prepare me for teaching by giving me multiple opportunities for in-classroom instruction," Griffin said. "I spent countless hours in multiple local high schools observing, planning lessons, creating assessments, and practice teaching. I had phenomenal instructors who helped guide me and provide constructive feedback in all aspects of teaching. I am proud to be a U of O alumni."
Griffin and her husband, Arik, have two children, Raylon, 8, and Liberty, 6.
Pfeiffer has taught at Paris Middle School since graduating from Ozarks in 2018. She was also surprised to hear about the honor.
"I was very honored to receive the award," she said. "There are so many teachers out there that have helped me get to where I am that it still feels like they deserve it more than me. It still feels nice to be recognized for hard work and to know that the good things I am trying to do in my little classroom are reaching outside of it.  Much further than I would have imagined, it seems."
Pfeiffer called mathematics "a joy to teach."
"Challenging students to reach higher levels of understanding and to problem-solve is very rewarding in the right classroom environment," she said. "My students tend to laugh at problems being difficult, instead of getting upset, and talk about how their 'brains hurt.' I always respond with, 'that is how growth happens.'  Every great teacher will tell you about the joys of the 'lightbulb' moments, but there are other parts of teaching that I enjoy more. One of the best parts is the life skills you teach along the way. Teaching students to have discussions and work together to get to answer and not argue; teaching them to share mistakes and help each other fix misunderstandings; and having students come to you with serious life questions when they need advice. These are all wonderful things of teaching."
While she said there is a lot university cannot prepare educators for in the classroom, she credited her education at Ozarks for setting the foundation to build from.
"The year-long internship, the interview process, and the portfolio really do help in being prepared to teach students," Pfieffer said. "I have spoken with some teachers who did not go through Ozarks for their degree, and I always feel blessed to have had the opportunity after the conversation."
Pfeiffer and her husband, Jared, were married in 2019 and have three cats and two dogs.
Topics: About, Alumni, Education, Mathematics